INTRODUCTION
Rheumatological diseases are a group of autoimmune disorders that occur chronically and affect many organs or organ systems, leading to a high risk of mortality and disability. The estimated prevalence in developed countries ranges from 3%-5%, according to the various evaluations in different populations. In general, if we evaluate the entire population of the globe, then rheumatological diseases are detected in 1% of people[1]. The most common diseases of this group are systemic lupus erythematosus (SLE), rheumatoid arthritis (RA), systemic scleroderma, idiopathic inflammatory myopathy and Sjogren's syndrome[2].
Recently, the connection of the immune system with metabolic processes in autoimmune and rheumatological diseases has been widely studied. The research focuses on key metabolic pathways, which comprise the pentose phosphate pathway, glycolysis, the tricarboxylic acid cycle, amino acid metabolism, oxidation and synthesis of fatty acids (FAs). Studies of lipid metabolism have been conducted for many years[3]. An altered lipid profile is often found in rheumatological diseases. Dyslipidemia is a generally accepted risk factor for the development of atherosclerosis and rheumatic diseases[2,4]. Its feature is a low level of high-density lipoproteins (HDL), high levels of low-density lipoproteins (LDL), triglycerides (TG) and total cholesterol (TC). The increased risk of atherosclerosis and damage to target organs, such as the central nervous system and kidneys, depend on high levels of LDL and/or abnormal levels of HDL in blood plasma[5,6].
Rheumatoid arthritis (RA) is a chronic inflammatory autoimmune disease, the prevalence of which is approximately 0.5%-1% of the population. In this disease, a common cause of death is cardiovascular complications[7]. Most of the data from genetic analysis, tissue analysis, animal models and clinical studies indicate an immuno-mediated etiology that contributes to chronic inflammation and joint destruction[8].
The development of RA and cardiovascular diseases (CVD) is influenced by common inflammatory mediators, posttranslational modifications of proteins, immune responses, changes in the composition and function of lipoproteins (LPS), oxidative stress and endothelial dysfunction[9,10]. The role of the central immune system in the development of CVD is being proven by more and more studies. Proinflammatory cytokines that increase atherogenesis are involved in the development of RA[11]. Understanding the unique mechanisms of CVD development in RA will help identify new goals to reduce significantly cardiovascular (CV) risk in patients[9,12].
SLE is a chronic autoimmune disease that affects mainly women of reproductive age. At the same time, the human immune system makes a mistake and produces autoantibodies. The autoantibodies mistakenly identify the body's own cells as being foreign and attack them. The result is an autoimmune reaction, circulating immune complexes are deposited in various organs, which leads to inflammation[13]. Deviations of the immune system, as well as hereditary, hormonal and environmental factors, affect the manifestation of organ damage. The genetic contribution to the progression of the disease is undeniable, but the etiology is still unclear. Gene polymorphisms that contribute to the development of SLE include single nucleotide polymorphisms, gene defects, duplications, and aberrant expression of splicing variants[14]. Patients with SLE develop atherosclerosis faster than people without this pathology. It is necessary to establish a link between cardiovascular diseases and SLE[15,16]. Hypertension, dyslipidemia and elevated levels of oxidized lipids, the presence of a large number of autoantibodies and inflammation can contribute to the progression of atherosclerosis in patients with SLE[17].
In general, atherosclerosis is a common chronic inflammatory disease in which damage to large vessels develops. Concomitant pathologies can be coronary heart disease (CHD), stroke and peripheral vascular diseases[18]. With atherosclerosis, cholesterol accumulates in the intima space of the vessels, because there is an increase in the amount and difficulty in the outflow of LDL[19]. The remaining LDLs are modified and engulfed by phagocytes[20]. This process leads to the formation of plaques, which consist of monocytes and cholesterol. There is a strong association between cholesterol, LDL and apolipoprotein, including apolipoprotein B (ApoB), and atherosclerosis, which makes them the main target for research[21].
CHOLESTEROL METABOLISM IN CELLS, TRANSPORT AND DISTRIBUTION AT THE INTRACELLULAR LEVEL, CHOLESTEROL OUTFLOW PATHWAYS, THE ROLE OF MACROPHAGES
The classical theory of the mechanism of atherosclerosis development presented it as a disease with impaired lipid metabolism. It was subsequently changed due to more in-depth studies[22,23]. Now it is impossible to deny the role of inflammatory pathways in the spread of atherosclerosis and the occurrence of acute coronary syndrome[11]. In many chronic inflammatory and autoimmune diseases, there is an increased risk of CVD. It remains to be seen whether the mediators of atherogenesis are common to all chronic inflammatory pathologies[22]. In any case, in the development of this pathology, an important role is played by the disorder of cholesterol metabolism. Multiple evidence supports that enhanced cholesterol efflux from foam cells by HDL particles is a promising antiatherogenic strategy[24].
Reverse cholesterol transport (RCT) is the process of transferring excess cholesterol from peripheral tissues to plasma using HDL. After that, it enters the liver, from where it is removed along with bile or metabolized before excretion [Figure 1][24]. Cholesterol must be in a non-esterified form so that it can be eliminated from the cells. This process was found in experiments in vitro and in vivo, where the hydrolysis of lipid droplets in foam cells limits the RCT rate[25]. Free cholesterol is released from lipid droplets by hydrolysis of cholesterol ester. After that, it can move to the plasma membrane and pass to the cholesterol acceptor, or be esterified again by cholesterol acyltransferase[26].
Figure 1. Reverse cholesterol transport. ABCA1: ATP binding cassette transporter A1; ABCG1: ATP binding cassette transporter G1; ABCG5: ATP binding cassette transporter G5; ABCG8: ATP binding cassette transporter G8; ApoA-I: apolipoprotein A-I; ApoB: apolipoprotein B; CE: cholesterol ester; CEPT: cholesteryl ester transfer protein; EL: endothelial lipase; HDL: high density lipoproteins; LCAT: lecithin-cholesterol acyltransferase; LDL: low-density lipoproteins; LDLR: low-density lipoprotein receptor; LXR: liver X receptor; PLTP: phospholipid-transfer protein; SR-A: scavenger receptor class A; SR-B1: scavenger receptor class B type 1; TG: triglycerides; VLDL: very-low-density lipoprotein.
A decrease or increase in the production of various enzymes affects the metabolism of cholesterol in cells. In particular, liver X receptors (LXRs) are the key sterol-sensitive transcription factors in macrophages that control the intracellular balance of cholesterol and lipids[27]. LXRs regulate the expression of numerous efflux pathway genes, including the ATP-binding cassette (ABC) proteins ABCA1 (member 1 of human transporter sub-family ABCA) and ABCG1 (ATP-binding cassette sub-family G member 1), which are the main carriers of cellular cholesterol from foam cells[28]. Foam cells are cholesterol-loaded macrophages and are the main link in the pathogenesis of atherosclerosis[29]. ABCA1 serves for the outflow of free cholesterol into apolipoprotein AI (ApoA-I) and is important for HDL biogenesis[30], and ABCG1 promotes the transfer of cholesterol to the plasma membrane from the endoplasmic reticulum (ER)[31]. After the transfer of cholesterol to HDL particles, they are esterified by lecithin-cholesterol acyltransferase (LCAT) to form a CE, which leads to the formation of mature HDLs. Plasma phospholipid-transfer protein (PLTP) and cholesteryl ester transfer protein (CETP) both play a major role in the metabolism of those lipoproteins. CEPT mediates the transport of TG and CE between HDL and non-HDL particles, and PLTP can stabilize the activity of ABCA1. Cholesterol enters macrophages as a result of the entry of LPs into the cell or as a result of efferocytosis of apoptotic cells[24]. Pre-β-HDL, which are formed due to the communication of ABCA1 and monomolecular apoA-I, are effective acceptors of free cholesterol transported from the plasma membrane of peripheral cells[32]. Excess cholesterol is removed from cells to extracellular acceptors or converted into CE and stored in cells in the form of cytosolic lipid droplets[24]. HDL containing cholesterol esters bind to SR-B1 (scavenger receptor class B type 1), which contributes to the efflux of cholesterol back into the liver[33]. Another protective reaction to an increased level of cellular cholesterol is the inhibition of SREBP (sterol regulatory element-binding protein) processing, which leads to a decrease in the expression of the gene for the enzyme HMGCR (3-hydroxy-3-methyl-glutaryl-coenzyme A reductase) - the main target of statins, which limits the rate of cholesterol production and is under the influence of the mechanism of negative feedback[24]. LXRs contribute to the removal of excess cholesterol in response to its elevated levels in cells[34]. SREBP2 protein promotes the biosynthesis and absorption of cholesterol if its content in cells decreases[35]. Actually, SREBP2 is the main transcription factor for the low-density lipoprotein receptor (LDLR). When cholesterol levels are low, SREBP2 is activated and triggers the transcription of genes encoding proteins that affect cholesterol metabolism[36]. SCAP (SREBP cleavage-activating protein) is a sterol-regulated companion protein that delivers SREBP from the site of their synthesis in the ER to the site of their cleavage in the Golgi complex[37]. There it is cleaved by two serine proteases (S1P and S2P), releasing the cytosolic NH2-terminal domains of the transcription factor[38]. These fragments penetrate into the nucleus, where they combine with steroid regulatory elements in the enhancer regions of more than twenty genes, resulting in the synthesis of cholesterol and unsaturated FAs[39]. In this case, the LXRs remain in a repressive state. Under high cholesterol conditions, a trimolecular complex consisting of the INSIG (insulin-induced gene), SCAP and SREBP2, remains in the ER, blocking SREBP2 activation and cholesterol synthesis[40].
Macrophages metabolize cholesterol. A certain amount of cholesterol remains in the cytosolic droplets of CE, then the excess again passes into the bloodstream to be processed by the liver. The outflow of cholesterol from cells involves several mechanisms. The first of them triggers the metabolism of cellular cholesterol by direct interaction of HDL and ABC on the surface of the plasma membrane. To combine cholesterol with HDL, ABC transporters transfer phospholipids and cholesterol to the outer layer of the plasma membrane. The expression of ABC transporters is controlled by LXR transcription factors. The second mechanism of cholesterol efflux from macrophages can be mediated by the release of particles with cholesterol, which are called "microparticles", "microdomains of cholesterol" or "exosomes"[41]. Scientists have hypothesized that a significant portion of cholesterol is associated with microparticles that are generated from the plasma membrane, but it is unclear how they were released[42]. Numerous investigations of cholesterol efflux by macrophages have concentrated on the ability of ABC transporters to transfer cellular cholesterol into LP particles. Cultured macrophages deliver cholesterol from the plasma membrane in the shape of "cholesterol microdomains". These microdomains help to remove excess cholesterol[43]. Later it was established that cholesterol microdomains are not vesicles, but are branching structures of irregular shape originating from the plasma membrane. However, the way they exit the cell is not specified[44]. It has been shown that cultured macrophages secrete vesicular particles enriched with "available cholesterol" (cholesterol pool) from the plasma membrane into the surrounding substrate[45]. The ability of macrophages to secrete vesicles containing cholesterol increased the likelihood of cholesterol transfer to neighboring cells[46]. Later it was found that ABCA1-deficient macrophages carry cholesterol to neighboring smooth muscle cells (SMCs). Most of the cholesterol transported to SMCs was taken from an available pool in the plasma membrane of macrophages; therefore, it is possible that pools isolated by sphingolipids or phospholipids contribute to the movement of cholesterol[47]. Cholesterol moves from macrophages to SMCs through membrane junctions between cells. It is known that these structures are detected in cultured macrophages[48].
Another pathway for cholesterol transport is due to ORP (oxysterol-binding protein-related proteins) connected to OSBP (oxysterol-binding protein). They are a family of lipid binding/transferring proteins that can promote non-vesicular cholesterol transfer between lipid bilayers, improving cholesterol transport between subcellular membrane organelles[49]. ORP6 controls cholesterol efflux and HDL balance and may be a new regulator of the RCT pathway. Transcription of the ORP6 gene is regulated by LXR transcription factors, which turn on at high levels of cellular cholesterol and regulate the expression of genes involved in cholesterol metabolism[50].
In studies on models of macrophages without LXR, an increase in lesions occurred[51], and LXR agonists had the opposite effect[52]. Lipids play an important role in the polarization of macrophages. Experiments on mouse models have demonstrated that the effect on lipid metabolism in macrophages can improve the course of atherosclerosis. Overexpression of LXR in macrophages has an antiatherogenic effect due to an increase in cholesterol efflux[53]. However, when LXR is activated, side effects such as lipogenesis and hypertriglyceridemia are detected, so there is a need for new studies of other ligands[54]. It has been demonstrated that people with a specific variant of perilipin-2, a protein associated with lipid droplets, are less vulnerable to the onset and progression of atherosclerosis[55]. The mechanism of this protection includes the activation of LXR in primary macrophages originating from monocytes. Innate immunity has also become a potential tool for combating atherosclerosis[56].
FEATURES OF CHOLESTEROL METABOLISM IN MACROPHAGES IN RHEUMATOID ARTHRITIS, DISTURBANCE OF LIPID METABOLISM, CAUSES, CONSEQUENCES
Patients with RA are 2-3 times more likely to have atherosclerosis[57]. The mechanisms by which the development of atherosclerotic lesions in RA is accelerated are unknown. Systemic inflammation is believed to play a key role in this process[58]. According to this hypothesis, circulating levels of monocytes and platelets are elevated in patients with RA[58,59]. The role of monocytes in joint damage has been studied for a long time. There have been numerous studies on the link between myeloid cells and atherosclerosis[60].
Monocytes, neutrophils and platelets originate from the bone marrow (BM) by myelopoiesis from hematopoietic stem cells and progenitor cells (HSPCs). Accumulation of cellular cholesterol leads to hyperproliferation and increased myelopoiesis. HSPCs and myeloid progenitor cells regulate cholesterol efflux, as described above, through the ATP-binding cassette transporters ABCA1 and ABCG1 and cell surface apolipoprotein-E (apoE) [Figure 2][61]. In patients with RA, cholesterol metabolism is disrupted owing to the inhibition of the expression of ABCA1 and ABCG1[62]. Proteomic analysis in patients with RA showed the presence of acute phase proteins (SAA - serum amyloid A) and complement factors (B, C3, C9)[63]. There is also a reduced level of HDL, an increase in the amount of proinflammatory and oxidized lipids, a violation of antioxidant activity[64]. Elevated levels of ox-LDL were detected in synovial fluid and synovial membrane and positively associated with CVD in patients with RA[65]. These damages in cholesterol transport can affect the cellular balance of cholesterol and lead to an increased risk of CVD[66].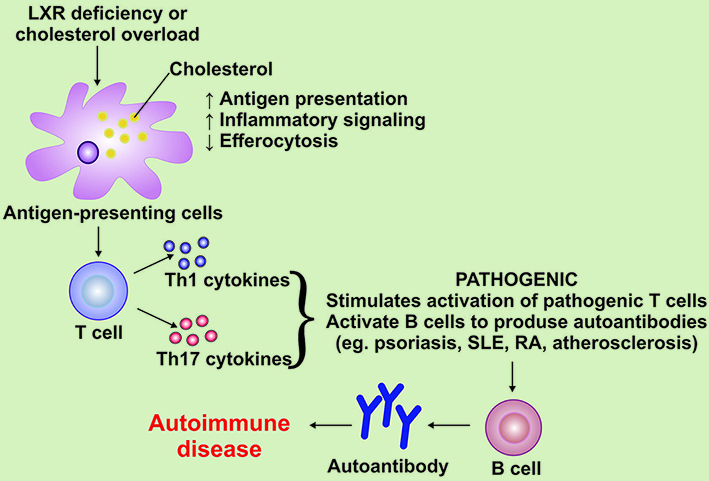 Figure 2. The effect of cholesterol metabolism on the progression of autoimmune diseases. LXR: Liver X receptor; RA: rheumatoid arthritis; SLE: systemic lupus erythematosus; Th1: T helper 1 cells; Th17: T helper 17 cells.
Inflammatory arthritis has been found to impair the regression of atherosclerotic lesions and accelerate atherogenesis in preclinical models of RA[67]. Through experiments in mouse models of RA, it has become known that bone marrow-derived HSPCs have impaired cellular balance of cholesterol, possibly because of systemic inflammation. Myeloid cells retain this damage in cholesterol transport, which may contribute to the appearance of foam cells and increase the incidence of CV complications in RA[68].
The team of scientists found that the activity of myeloperoxidase (MPO) in blood plasma was greatly increased in patients with RA compared to healthy controls in terms of age, ethnicity and gender[69]. MPO is a protein found in the granules of neutrophils and monocytes that generates reactive oxygen species to destroy invading pathogens[70]. MPO levels are also elevated in atherosclerotic lesions[71] and are related to the prevalence of coronary heart disease in the overall population[72]. ApoA-I is a selective target for nitration and chlorination catalyzed by MPO. Oxidation of HDL and apoA-I leads to selective suppression of ABCA1, which impairs cholesterol efflux[73].
In patients with RA, dyslipidemia can be stopped without the use of statins, using anti-inflammatory and anti-rheumatic drugs[74]. Glucocorticoids have both atheroprotective and proatherogenic effects. The reason for these differences is the ability of glucocorticoids to act on several types of cells in the vasculature, with different effects depending on the concentration and target cells[75].
LIPID METABOLISM DISTURBANCES IN SYSTEMIC LUPUS ERYTHEMATOSUS
CHD and atherosclerosis are more common in patients with SLE compared to the control group, which could not be predicted only by the main risk factors[76]. Since CVD deaths account for more than a third of all deaths in patients with SLE, it is obvious that CV complications are one of the main problems for patients with SLE[77].
HDL exhibit antioxidant, anti-inflammatory, antithrombotic, and antiapoptotic properties independent of cholesterol mobilization[78]. Patients with SLE with rapidly developing atherosclerosis have the progression of dysfunction and a decrease in HDL levels [Figure 2][79]. These data suggest that HDL is a target for reducing the frequency of CVD in patients with SLE[80].
Elimination of cholesterol from vascular macrophages is an important process to protect against atherosclerosis and improve CVD outcomes[81]. This process is mediated by OTC and allows the transfer of excess cholesterol and other lipids from macrophages in atherosclerotic lesions to the liver for excretion. The first and very important stage in RCT is the efflux of cholesterol from macrophages through HDL[80]. A violation of lipid metabolism is observed in the early diagnosis of SLE[82]. Numerous studies suggest that the reason for the decrease in the ability of cholesterol efflux in SLE is an elevated level of the SAA protein, which contributes to HDL dysfunction and reduces the ability to delete cholesterol from macrophages and move CE to the liver[83].
HDL oxidation may also help reduce cholesterol efflux in SLE. In HDL containing oxidized apoA-I, the capacity to drain cholesterol is reduced[84]. When a single methionine residue (Met-148) is oxidized in apoA-I, HDL loses the capacity to interact with LCAT, the enzyme responsible for the formation of CE, which is the main step in RCT. Thus, the oxidation of apoA-I may be one of the causes of impaired cholesterol efflux in SLE[85].
HDL can directly suppress inflammatory processes leading to the progression of atherosclerosis[86]. HDL inhibits TLR-induced generation of proinflammatory cytokines by macrophages at the transcriptional level. Activated transcriptional repressor (ATF3) of innate immune response genes moves to the nucleus and inhibits the stimulation of TLR-induced inflammatory cytokines[87]. HDL can also reduce the production of cell adhesion molecules activated by nuclear factor-κB (NF-κB), thereby preventing atherosclerotic disease[88]. HDL in healthy individuals contribute to the anti-inflammatory response. Lipoproteins derived from SLE patients induce a proinflammatory response. Scientists have found that HDL in SLE cannot suppress TLR-mediated cytokine induction[89]. It has also been found that HDL in SLE patients can activate PDGFRβ (platelet- derived growth factor receptor β) and increase chemotaxis and release of TNF-α[90].
The oxidation of HDL in SLE contributes to their binding to LOX1R (a lectin-like receptor of oxidized low-density lipoproteins 1), preventing nuclear translocation of ATF3 and leading to an enhanced synthesis of inflammatory cytokines[91,92]. Elevated oxLDL levels improve the adhesion of monocytes to activated endothelial cells by enhancing the expression of adhesion molecules and proinflammatory cytokines[92,93]. Then monocytes migrate to the intima of the arteries, absorbing oxLDL and foam cells are formed[87]. The use of statins appears to benefit patients with SLE, but further studies are needed to see a sustained positive effect[94].
BRIEF DESCRIPTION OF LIPID METABOLISM IN OTHER RHEUMATOLOGICAL DISEASES
Rheumatological diseases include multiple sclerosis (MS), a chronic progressive inflammatory and degenerative pathology of the central nervous system caused by autoimmune and inflammatory processes leading to demyelination and degeneration of neurons[95]. Proinflammatory lipids are the cause of the typical clinical symptoms related to many autoimmune rheumatic diseases (ARDs)[96]. Lipid metabolism affects many functions of immune cells[97]. The link between lowering cholesterol levels and the progression of MS has been confirmed[98]. In patients with MS with excessive accumulation of cholesterol or deficiency of LXR, there is a violation of the functions of T cells, which leads to the activation of B cells and the production of autoantibodies [Figure 2][99].
Psoriasis is a widespread skin disease affecting about 1%-3% of the general population[100]. Patients with psoriasis are more susceptible to obesity, dyslipidemia, atherosclerosis and non-alcoholic fatty liver disease. Researches show that lipid metabolism disorders are more common in these patients[101]. An important feature is that atherosclerotic plaques are similar to psoriatic ones. Both plaques develop due to chronic inflammatory conditions and are associated with immune processes that involve cytokines, T-lymphocytes, and thrombotic agents[102]. The analysis of research into lipid metabolism has shown that the levels of total cholesterol, LDL and very-low-density lipoproteins (VLDL) are higher in patients with psoriasis than in control groups[103]. The lipid profile of the patients showed a high level of lipids with Apo-B [Figure 3]. The amount of HDL does not change[104]. The antioxidant activity of HDL mediated by paraoxonase 1 (PON1) seems to persist in patients with psoriasis, despite the change in composition towards proinflammatory HDL particles. Since such a shift was associated with a violation of ABCA1-CEC, these results may be evidence of a link between psoriasis and CVD[105].
Figure 3. Cholesterol efflux defects in immunoinflammatory diseases. ABCA1-CEC: ABCA1-specific cellular cholesterol efflux capacity; ABCG1-CEC: ABGA1-specific cellular cholesterol efflux capacity; apoA-I: apolipoprotein A-I; apoB-I: apolipoprotein B-I; HDL: high density lipoproteins; PON-I: paraoxonase-I; SAA: serum amyloid A.
FEATURES OF CHOLESTEROL METABOLISM IN MACROPHAGES IN ATHEROSCLEROSIS AT DIFFERENT STAGES OF THE DISEASE. THE ROLE OF MACROPHAGES IN INITIATION AND PROGRESSION OF LESION
Studies of the initial stages of atherogenesis in human and animal models show that the main initial stage is the subendothelial accumulation of lipoproteins with apolipoprotein B (apoB-LPs)[106]. ApoB-LPs generated by the liver cells are secreted as VLDL, which are converted into atherogenic LDL in the bloodstream[107]. Intestinal apoB-LPs are formed in the form of chylomicrons, which turn into atherogenic particles due to lipolysis[108].
The first reaction to apoB-LPs is the activation of overlying endothelial cells, which leads to the recruitment of blood monocytes. Activated endothelial cells secrete chemokines that react with the corresponding chemokine receptor on monocytes and contribute to directed relocation[109]. Monocytes are formed from progenitor cells in the BM. The onset of monocyte growth is controlled by the content of cellular cholesterol, so it can affect atherogenesis. Mice whose monocyte progenitor cells have a defect in cholesterol efflux owing to a shortage of ABCA1 and ABCG1 transporters demonstrate an increase in the number of circulating monocytes (monocytosis) and the development of atherosclerosis[110]. After monocytes are firmly attached to the affected endothelial cells owing to the interplay of monocyte integrins with endothelial cell ligands[111,112]. Strong adhesion is accompanied by their penetration into the subendothelial space[113,114].
Mouse monocytes in early atheromas become macrophage-like and/or dendrite-like cells under the action of macrophage-colony stimulating factor (M-CSF)[115,116]. Even at the initial stages, macrophages and dendritic cells contain lipid droplets linked to the cytoplasmic membrane (foam cells)[117,118]. Further formation of foam cells starts when phagocytes engulf and process apoB-LPs[119]. CE are then hydrolyzed in endosomes to FC and FA[120]. FC delivery to the ER plays an important role in downregulating LDL receptors and endogenous cholesterol synthesis by suppressing the SREBP[121]. FC transported from lysosomes and CE from non-hydrolyzed droplets can penetrate the plasma membrane and be accessible for efflux from the cell[119]. Defective transfer of FC from lysosomes in damaged macrophages creates a barrier to cholesterol efflux and damage regression[122]. Once on the plasma membrane, cholesterol is transported to its outer layer, where it is removed from cells by ABCA1- and ABCG1-mediated transport to apoA-I and HDL or by "passive diffusion" to low-cholesterol HDL[123,124].
In experimental models, the classic inflammatory phenotype of macrophages has been termed M1 and is often activated by in vitro incubation of macrophages with a combination of IFN-γ and LPS. A subpopulation of M2 macrophages has also been detected in vitro. The M2 phenotype can be activated by adding IL-4 and IL-13, which suppress the M1 phenotype and promote the production of IL-10 and TGF-β (transforming growth factor beta)[125]. There are much more subpopulations of macrophages, since macrophages encounter various microenvironments, the signals of which influence them[126]. Studies in Apoe-/- mice have demonstrated that M2 macrophages colonize initial fatty streaks. The further the lesion progresses, the more common the M1 phenotype of macrophages is[127].
Stages of atherosclerotic changes in the vascular wall. At the stage of initiation of an atherosclerotic lesion, most monocytes differentiate into macrophages. This process is crucial for the further resolution of lesions[128]. Macrophages congregate in receptive areas of the arteries due to the expression of endothelial adhesion molecules and the presence of apoB-LPs in the subendothelium[125]. Chemokines produced by endothelial cells and macrophages attract even more monocytes[129,130]. Macrophages absorb modified lipids and other substances from the subendothelium. The fatty streak with macrophages increases due to the accumulation of a large number of macrophages and their transformation into foam cells[131]. Early lesions may resolve with efferocytosis[125]. Macrophages are polarized to either the proinflammatory M1 phenotype or the anti-inflammatory M2 phenotype, which correlates with their contribution to disease progression. It is necessary to find out whether different macrophage phenotypes are the cause of the disease or they simply reflect its progression[132].
At the stage with progressive necrotic lesions, macrophage apoptosis can be partially induced by FC or FA[125]. Macrophages exposed to ER stress are more receptive to apoptosis caused by oxidized phospholipids or LPs[122]. Apoptosis of macrophages does not cause plaque necrosis. This occurs when phagocytes are unable to remove macrophages (efferocytosis) that have undergone apoptosis[133]. Efferocytosis is carried out through phagocytic receptors, ligands of apoptotic cells and bridging molecules. The defect of efferocytosis can occur due to a large number of apoptotic macrophages and tissue necrosis[134]. Other causes of defective efferocytosis may be the death of efferocytes caused by oxidative stress[135] and protease-mediated cleavage of the efferocytosis receptor MerTK (MER tyrosine kinase)[136].
The stage of resolution of atherosclerotic lesions may be caused by an aggressive decrease in lipid levels in mice with hyperlipidemia and a decrease in blood glucose levels in mice with diabetes. Regression in these models is indicated by a decrease in the number of macrophages in the atherosclerotic plaque and a change in gene expression in CD68-positive cells[137]. A decrease in the number of macrophages can occur due to an increase in the effectiveness of efferocytosis and autophagy[125]. With a decrease in the production of collagen of fibrous thickening by fibromyoblast-like SMCs, plaques prone to rupture will appear in the intima[138]. Macrophages can reduce the production of collagen in the SMCs intima, while the cells do not die. In plaques where the balance of apoptotic cells is disturbed, the secretion of TGFß is low. This may be the reason for its loss by neighboring cells[139].
The influence of M1 and M2 macrophages on atherogenesis can be understood by studying the transcription programs, thanks to which their division into phenotypes occurs[140]. Deletion of transcription factor NR4A1 (nuclear receptor subfamily 4 group A member 1) provides the formation of M1 macrophages and rapid progression of atherosclerosis in Apoe-/- and Ldlr-/-mice[141]. The progression of atherosclerosis in the model with Apoe-/-mice is influenced by the directed deletion of transcription factor SP4. This factor stops the differentiation of monocytes towards the M1 phenotype and accelerates the formation of foam cells[142]. Injection of M2-polarizing cytokine IL-13 into Ldlr-/- mice inhibits the progression of atherosclerosis[143].
It has been suggested that several other populations of macrophages can be found in plaques. These macrophage phenotypes are called M(Hb) and Them[144]. They are characterized by resistance to lipid loading. Differentiation towards these phenotypes occurs under the influence of hemoglobin-haptoglobin complexes and heme in vitro. Mox-type macrophages are characterized by high production of hemoxygenase-1[145]. The chemokine CXCL4 leads to the formation of an M4 population[146]. It has been suggested that IL-17A can also influence the polarization of macrophages; as a result of its influence, a population, unlike M1, M2 and M4, is formed[147].
A large number of macrophages in unstable plaques makes them an important subject of research that can help in the diagnosis and therapy of diseases[148]. Macrophages in plaques can be detected by SPIOs (supermagnetic iron oxide particles). Nanoparticles stuck together inside phagolysosomes give a strong MRI (magnetic resonance imaging) signal. This method of macrophage visualization can be used both in experimental models and in patients[149]. This method can help to see how quickly the development of atherosclerotic plaque occurs. The more the particles absorb newly migrating cells, the bigger they become and the more acute the inflammation[150].
In addition, macrophages have the ability to absorb nuclear agents, such as 64Cu-labeled nanoparticles. After that, they can be found using positron emission tomography (PET)[151]. The approximate number of macrophages can be determined using radioactive fluorodeoxyglucose (18F-FDG), after obtaining the result using PET. Cells absorb it instead of the usual glucose[152]. Using the mitochondrial protein (the ligand of the peripheral benzodiazepine receptor), the activity of macrophages can be studied, since a large amount of it is expressed in them[153]. Active work is underway to develop a method by which it will be possible to study individual subpopulations of macrophages, for example, M2[154]. If this method can be applied clinically to better monitor plaque vulnerability, it would be a promising area for future research[155].
Statins can reduce high cholesterol and suppress inflammatory macrophages[156]. In an experiment with statins, their intake increased the number of macrophages in the lesion, and there was also a decrease in other markers of inflammation[157]. FTY720 (biologically active sphingolipid) increases the number of M2 macrophages in plaques and slows down the development of lesions in mice, which indicates an important potential for therapy[158,159].
CONCLUSION
It is necessary to better understand how the metabolism of monocytes and macrophages changes at the stage of initiation of atherosclerotic lesions, and to find out at which point pathological changes occur in cells that contribute to the progression of the disease. These mechanisms require a detailed study of the plasticity of the macrophage phenotype at various stages of atherosclerosis in order to resolve inflammatory reactions and restore protective immune functions. It is necessary to investigate the mechanisms that underlie the relationship between inflammatory processes in rheumatic diseases and the risk of developing CVD in order to create new approaches to treatment and prevention. Studies can be conducted to evaluate the relationship between MPO activity, HDL function, and cholesterol efflux from cells with indicators of subclinical atherosclerosis in rheumatological diseases. It is important to assess the effect of autoimmune diseases on HDL levels and, as a consequence, on the path of cholesterol efflux. Further research on the role of lipid metabolism in the pathogenesis of autoimmune diseases may open up alternative strategies for improving immune cell function. Thus, this knowledge may be of fundamental importance for identifying new approaches in diagnosis and treatment, by studying the mechanisms influencing the lipid content in macrophages, their level and inflammatory phenotype.
DECLARATIONS
Authors' contributions
Text preparation: Bogatyreva AI
Editing: Tolstik TV, Khotina VA
Consultation, English improvement: Markin AM
Manuscript editing: Grechko AV, Oishi Y
Availability of data and materials
Not applicable.
Financial support and sponsorship
The work was supported by the Ministry of Science and Higher Education of the Russian Federation, Project AAAA-A20-120122190024-0 "Regulation of mitochondrial functional activity by molecular genetic methods, preparation of methodological content for Gene therapy of socially significant diseases - atherosclerosis and essential hypertension".
Conflicts of interest
All authors declared that there are no conflicts of interest.
Ethical approval and consent to participate
Not applicable.
Consent for publication
Not applicable.
Copyright
© The Author(s) 2023.
Cite This Article
OAE Style
Bogatyreva AI, Tolstik TV, Khotina VA, Grechko AV, Oishi Y, Markin AM. Features of cholesterol metabolism in macrophages in immunoinflammatory diseases. Vessel Plus 2023;7:4. http://dx.doi.org/10.20517/2574-1209.2022.24
AMA Style
Bogatyreva AI, Tolstik TV, Khotina VA, Grechko AV, Oishi Y, Markin AM. Features of cholesterol metabolism in macrophages in immunoinflammatory diseases. Vessel Plus. 2023; 7:4. http://dx.doi.org/10.20517/2574-1209.2022.24
Chicago/Turabian Style
Bogatyreva, Anastasia I., Taisiya V. Tolstik, Victoria A. Khotina, Andrey V. Grechko, Yumiko Oishi, Alexander M. Markin. 2023. "Features of cholesterol metabolism in macrophages in immunoinflammatory diseases" Vessel Plus. 7: 4. http://dx.doi.org/10.20517/2574-1209.2022.24
ACS Style
Bogatyreva, AI.; Tolstik TV.; Khotina VA.; Grechko AV.; Oishi Y.; Markin AM. Features of cholesterol metabolism in macrophages in immunoinflammatory diseases. Vessel Plus. 2023, 7, 4. http://dx.doi.org/10.20517/2574-1209.2022.24