Elective surgery
The patient who needs an elective surgical procedure should discontinue treatment with direct anticoagulants. For discontinuation of therapy, several factors should be considered: renal function (creatinine clearance, according to Cockcroft-Gault, although with several limits, is the most frequently used method to evaluate kidney function), the type of drug taken, the interval from the last administration, single or bi-administration, the hemorrhagic risk related to the surgical procedure, and the thromboembolic risk of each patient.
In the case of surgical interventions characterized by a negligible bleeding risk, such as dental interventions or superficial surgery procedures, the last dose of the drug should be taken approximately 18-24 h before surgery for apixaban, rivaroxaban, and edoxaban[16], while the time of withdrawal varies in relation to renal function for dabigatran [Table 5]. If the bleeding risk of the procedure is not negligible but is still low, as in the case of bladder and prostate biopsies or non-coronary angiography, discontinuation of therapy 24 h before is recommended if renal function is normal[17]. If the surgery is characterized by a high bleeding risk, e.g., thoracic, abdominal, or major orthopedic surgery procedures, anticoagulant therapy with apixaban, rivaroxaban, and edoxaban should be discontinued 48 h before surgery. Dabigatran discontinuation times still need to be evaluated on renal function.
Table 5
Timing of DOACs withdrawal in relation to kidney function and procedural risk of bleeding
Creatinine clearance
Intervention at low risk of bleeding (< 2% risk within 48 h)

Intervention at high risk of bleeding (2-4% risk within 48 h)
Dabigatran
> 80 mL/min
24 h
48 h
50-80 mL/min
36 h
72 h
30-50 mL/min
48 h
96 h
Apixaban,
edoxaban,
rivaroxaban
> 80 mL/min
24 h
48 h
50-80 mL/min
24 h
48 h
30-50 mL/min
24 h
48 h
15-30 mL/min
36 h
48 h
Recent data show that in about 20% of patients, a concentration of drugs in the plasma still able to exert an anticoagulant action may be detected more than 48 h after the last intake of a direct anticoagulant, an effect more frequently observed with apixaban. This finding has called into question the safety of the adoption of rigid suspension schemes when neuraxial anesthesia is hypothesized[18].
After surgery in which complete hemostasis could be achieved, direct anticoagulants can generally be resumed 6-8 h after surgery. However, resuming the full anticoagulation dose within the first 48-72 h after most of the thoracic or abdominal procedures may carry a risk of bleeding that outweighs the risk of AF-related embolism. In these cases, postoperative thromboprophylaxis with LMWH in prophylaxis dose 6-8 h after surgery and delay of therapeutic anticoagulation, postponing the restart of direct oral anticoagulants (DOACs) by ≥ 48-72 h, can be considered.
Emergency surgery-time-dependent
Given their short half-life, in a patient with preserved renal function, reduction of the anticoagulant effect occurs relatively quickly from the last intake; for this reason, a waiting strategy accompanied by supportive therapy is considered sufficient if the intervention can be postponed by at least 12-24 h from the last administration. The reversal of anticoagulant activity should instead be considered in conditions of emergency (minutes) or urgency (hours). Before any treatment, the coagulation status of the patient (PT, aPTT, anti-FXa dosage, dTT/ECA, etc.) should be evaluated. Although in an emergency situation, the indication for the use of specific antidotes and/or pro-hemostatic factors is regulated by the clinical presentation of the patient, the results of these initial tests may have important implications for further treatment during the following hours since an excessive prothrombotic state as well as an insufficient reversal may be observed, both needing correction. Recently, it has also been shown that the evaluation of plasma levels of DOAC may be useful in interpreting the anticoagulation state and the residual effects of DOACs[18].
The recent EHRA (European Heart Rhythm Association) guidelines provide an algorithm [Figure 2] for the management of anticoagulant treatment in surgical emergencies[19].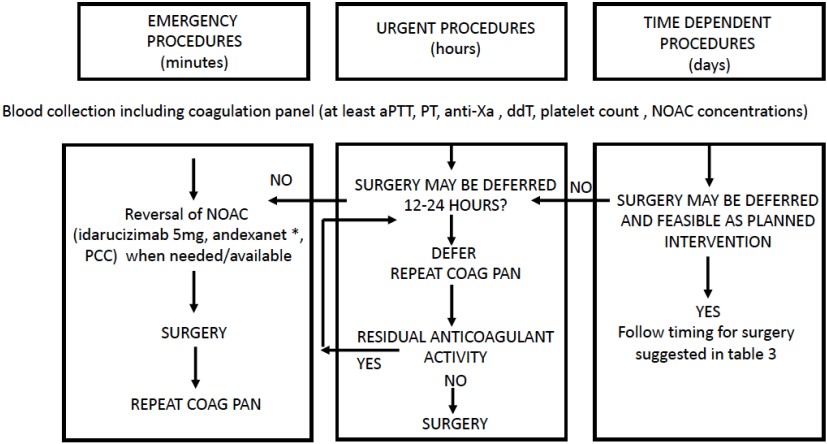 Figure 2. Management of DOACs in relation to surgery timing (modified from[19]). *Andexanet alfa must be administered as a bolus of 30 mg/min in 15 min (low dose) or 30 min (high dose), followed by i.v. infusion of 4 mg (low dose) or 8 mg (high dose) per min for 120 min. DOACs: direct oral anticoagulants.
When the last dose was taken within 2 h prior to arrival in the emergency room, the administration of activated charcoal by oral route has been shown to be effective in reducing absorption by 99.9% for dabigatran, while there is no evidence for factor Xa inhibitors[20].
PCCs represent a heterogeneous combination of coagulation factors and inhibitory components. PCCs typically contain three (II, IX, and X) or four (II, VII, IX, and X) coagulation factors. The overall concentrations of coagulation factor in these preparations are 25 times higher than plasma concentrations. Three- or four-factor concentrates of the PCC demonstrated a discordant effect based on the type of DOAC used: in healthy volunteers, 50 U/kg of four-factor PCC was shown to be effective in reducing PT elongation due to rivaroxaban, while they did not have the same effect for dabigatran-supported aPTT prolongation[21].
The activated prothrombin complex concentrate (aPCC-FEIBA), containing factors II, VII, IX, and X, seems to correct the anticoagulant effect of high doses of rivaroxaban: at high doses (75-80 U/kg), aPCC corrects and promotes the generation of thrombin in vitro on the plasma of healthy volunteers who have taken a single dose of rivaroxaban or dabigatran, and in the blood of healthy volunteers after administration of apixaban[22]. Administration of activated factor VII has not been effective in counteracting bleeding complications in DOAC patients and should be considered as adjuvant therapy during severe bleeding refractory to other treatments.
To date, the only DOAC antagonist drug approved in Europe is idarucizumab, a dabigatran-specific inactivator. It is a humanized monoclonal antibody fragment, which binds to dabigatran with an affinity about 300 times more powerful than dabigatran's binding affinity with thrombin. As a result of its predominantly renal excretion, the clearance of idarucizumab is reduced in patients with impaired renal function[23]. In total, 202 patients requiring urgent procedure/surgery (Group B) were included in the RE-VERSE AD study. The median age was 78 years, and creatinine clearance averaged 52.6 mL/min[24]. Most patients achieved complete inactivation of dabigatran anticoagulant effect, measured by dilute thrombin time and ecarin clotting time, in the first 4 h after administration of 5 g of idarucizumab. Restoration of hemostasis was achieved in 80.3% of evaluable patients with severe bleeding, while, in patients for whom an emergency procedure was required, normalization of hemostasis was observed in 93.4%[23].
Andexanet, an enzymatically inactive truncated form of factor Xa, has recently been approved by the US Food and Drug Administration (but not yet in Europe) and is capable of binding to direct inhibitors of factor Xa, preventing their anticoagulant action. Although it is still being studied, PER977 (ciraparantag), a small synthetic molecule, seems to be able to bind all new oral anticoagulants. In the study "Andexanet Alfa, a Novel Antidote to the Anticoagulation Effects of FXA Inhibitors 4" (ANNEXA-4), andexanet alfa was successfully used in major or life-threatening bleeding[25]; unlike RE-VERSE-AD, the study did not include patients undergoing emergency surgery.