1Cardiology Unit, Department of Internal Medicine, University of Genoa, Genova 16132, Italy.
2Cardiology Unit, Ospedale Policlinico San Martino IRCCS, Genova 16132, Italy.
3Centre for Diagnosis and Treatment of Cardiomyopathies, Cardiovascular Department, Azienda Sanitaria Universitaria Giuliano-Isontina (ASUGI), University of Trieste, Trieste 34148, Italy.
4Centro Coordinamento Regionale Malattie Rare, Azienda Sanitaria Universitaria del Friuli Centrale, Udine 33100, Italy.
Correspondence to: Assoc. Prof. Marco Canepa, Cardiology Unit, Department of Internal Medicine, University of Genova, Ospedale Policlinico San Martino IRCCS, Viale Benedetto XV, 10, Genova 16132 GE, Italy.E-mail: marco.canepa@unige.it
Abstract
Cardiac amyloidosis (CA) is increasingly diagnosed due to the advancements made in diagnostics and therapeutics in the last decades, particularly in the field of transthyretin-related CA. Studies that have used bone scintigraphy for screening at-risk conditions have shown that about one out of ten patients with heart failure with preserved ejection fraction (HFpEF), aortic stenosis undergoing valve replacement, or hypertrophic cardiomyopathy (HCM) diagnosed later in life might have an underlying or concomitant CA. At the same time, the epidemiology of these conditions is also rapidly evolving. HFpEF has become the leading form of heart failure, and HFpEF patients are increasingly cared for in non-cardiology settings due to their older age and substantial burden of comorbidities. Aortic stenosis is increasingly treated percutaneously at earlier stages of the disease, determining a significant gain in survival. Hypertrophic cardiomyopathy is nowadays mostly diagnosed in middle-aged adults with near-normal life expectancy, with a greater chance of misdiagnosing CA as HCM or of an overlap between the two conditions. In all these contexts, the therapeutic and prognostic implications of diagnosing CA will have to be further investigated. Meanwhile, the diagnostic workup of patients with suspected CA should always be completed with the systematic exclusion of a plasma cell dyscrasia, the acquisition of tomographic imaging at bone scintigraphy, and the completion of genetic testing for transthyretin-related forms.
Keywords
Amyloidosis, transthyretin, light chain, epidemiology, heart failure, aortic stenosis, hypertrophic cardiomyopathy, hypertrophy
INTRODUCTION
Cardiac amyloidosis (CA) is an infiltrative disease of the myocardium, in which different proteins may deposit within the myocardial interstitium[1] causing an increase in cardiac wall thickness, progressive cardiac dysfunction and heart failure (HF), conduction disturbances, and arrhythmias[2]. The two most prevalent forms of CA are due to the deposition of: (1) immunoglobulin light chains (AL) produced from plasma cells in the context of plasma cell dyscrasia (among which is multiple myeloma)[3]; and (2) transthyretin (TTR)[4]. Transthyretin-related CA (ATTR-CA) is a result of either a genetic mutation in the gene coding for this protein (ATTRv-CA, variant) or advanced age (ATTRwt-CA, wild-type or senile), which determines TTR tetramer dimerization and subsequent formation of aggregation of monomers within the myocardium.
In this narrative review, we summarize the most recent evidence concerning the changing epidemiology of CA. Then, some final remarks are made concerning open challenges in its diagnostic workup and therapeutic management, highlighting the importance of adhering to the recommended CA diagnostic algorithm to avoid misdiagnosis and discussing the opportunity of screening populations at risk of CA to initiate disease-specific treatments. Pertinent articles were identified through a MEDLINE search of the English language literature up to April 2021, followed by a manual selection of manuscripts discussing the abovementioned topics and considered most relevant by the authors.
WHAT IS KNOWN ABOUT THE EPIDEMIOLOGY OF CARDIAC AMYLOIDOSIS
Systemic amyloidosis is listed among rare diseases within international rare diseases' databases such as Orphanet (www.orpha.net) and NORD (https://rarediseases.org). A prevalence lower than 1/2000 has been estimated for AL and ATTR amyloidosis, which is why both conditions are nowadays considered rare. Nonetheless, when one refers specifically to amyloidosis with cardiac involvement, updated epidemiological data are lacking (as discussed below), and it is in the opinion of renowned experts worldwide that the prevalence of some forms of CA, including AL-CA and ATTRwt-CA, might actually be higher than it is usually believed[3,4]. CA is, indeed, difficult and challenging to diagnose, with about a third of all AL-CA patients being seen on average by more than four specialists before reaching final diagnosis[5]. Significant delays in diagnosis also exists for ATTR-CA[6]. However, the epidemiological scenario of CA is rapidly evolving and this condition is increasingly diagnosed[3,4], particularly because of two recent discoveries: first, the possibility of performing a non-invasive diagnosis of ATTR-CA in a vast majority of cases and, second, the demonstrated efficacy of specific treatments aiming at interrupting the progression of myocardial TTR infiltration. Indeed, the algorithm proposed by Gillmore et al.[7] in 2016 (and still considered the reference diagnostic standard for ATTR-CA by the most recent Position Paper of the European Society of Cardiology on CA[2]) introduced the possibility of a non-biopsy diagnosis of ATTR-CA by means of bone scintigraphy in the vast majority of cases. Two years later, the results of the Tafamidis in Transthyretin Amyloid Cardiomyopathy Clinical Trial (ATTR-ACT) were presented, showing the safety and efficacy of tafamidis - a selective TTR kinetic stabilizer - in reducing all-cause mortality and cardiovascular-related hospitalizations in heart failure (HF) patients diagnosed with ATTR-CA [Figure 1][8]. These advancements in the diagnostics and therapeutics of ATTR-CA are expected to have a positive impact on reducing diagnostic delays in AL-CA and potentially increasing its incidence and prevalence.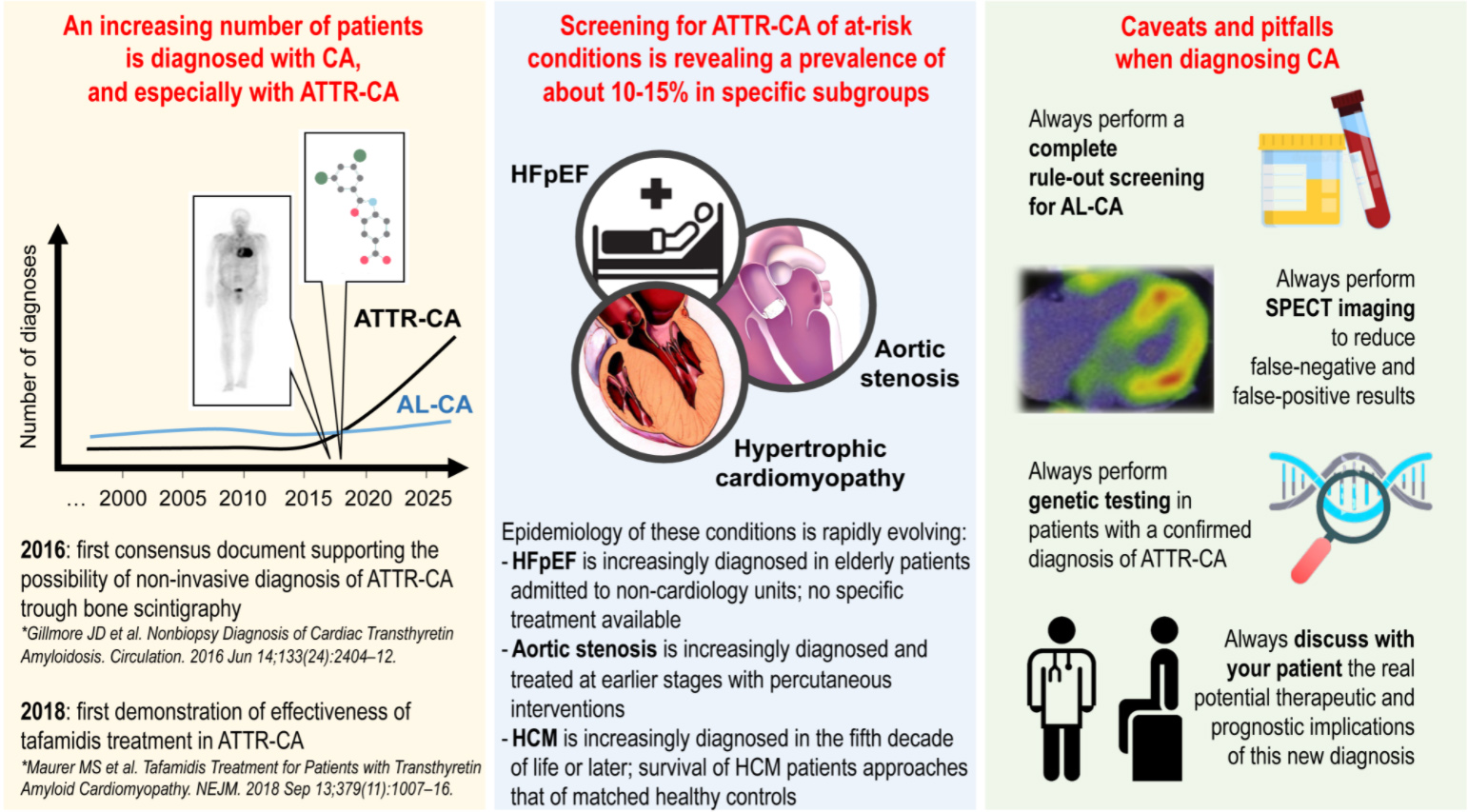 Figure 1. Current concepts in the evolving epidemiology of cardiac amyloidosis. ATTR-CA: Transthyretin-related-cardiac amyloidosis; HFpEF: heart failure with preserved ejection fraction; HCM: hypertrophic cardiomyopathy; SPECT: single photon emission computed tomography.
The description of the evolving epidemiology of CA remains scant in the literature so far[1,3,4,9]. Data on AL-CA from the Olmsted County from 1990 to 2015 show a stable incidence rate of 1.2 per 100,000 person-years[9]. A stable prevalence of AL-CA has also been recently reported in Italy, with data from a single-center 20-year study from Florence including 654 CA patients[10] and a multi-center 5-year Italian survey[11] including 642 CA patients both showing an exponential increase in the number of ATTR-CA diagnoses following 2016, the year of publication of the algorithm by Gillmore et al.[7]. Both works demonstrated that 60%-70% of CA cases diagnosed in 2019 were in fact ATTRwt-CA, with only the remaining 20%-30% being AL-CA. Data from the National Amyloidosis Center in London, which provides care to a large cohort in the United Kingdom, suggest that the diagnosis of ATTRwt-CA has increased exponentially there as well[12]. Administrative data from Medicare Beneficiaries in the United States of America also demonstrate that both the incidence and prevalence of CA have increased from 2000 to 2012 (no distinction between ATTR- and AL-CA was available in this analysis), particularly among male patients ≥ 65 years old presenting with new-onset HF[13]. As for ATTRv-CA, this has been considered a disease with endemic regions due to the variable geographical distribution of TTR mutations[4]. Nonetheless, the growing use of genetic testing that should follow the expanding use of bone scintigraphy will likely reveal the existence of additional endemic areas, including clusters of ATTRv-CA patients with mutations once considered to be rare[14], determining an enormous change in the apparently well-known geographical distribution of this disease. In conclusion, in the words of the experts, "although the exact prevalence of ATTR-CA is unknown, this is almost certainly the most common cause of CA"[4]. A "higher-than-expected" prevalence of ATTR-CA in some at-risk cardiovascular conditions has also been recently acknowledged within international rare diseases databases.
CARDIAC AMYLOIDOSIS IN AT-RISK CONDITIONS: HEART FAILURE, AORTIC STENOSIS AND HYPERTROPHIC CARDIOMYOPATHY
We have been learning by screening different conditions considered at risk of CA[4] that the prevalence of ATTR-CA in certain subgroups of cardiovascular patients might be higher than initially thought [Figure 1]. In particular, several studies have screened for CA patients with HF, with a particular focus on patients with HF with preserved ejection fraction (HFpEF). Among the several studies that screened for ATTR-CA mixed HF populations by means of bone scintigraphy[15,16], cardiac magnetic resonance[17], endomyocardial biopsy[18], or genetic testing[19], two pivotal ones with a prospective design and careful patients' selection are worth noting. The two studies together screened 169 HFpEF patients of a mean age of about 80 years using bone scintigraphy[20,21] and found an average ATTR-CA prevalence of 15%. A larger multinational study is ongoing (NCT 04424914) aiming at enrolling 2500 HFpEF patients older than 60 years and with left ventricular hypertrophy, which will be screened for ATTR-CA by means of bone scintigraphy. This study will offer an updated and more reliable estimate of the prevalence of this disease in this at-risk condition.
A similar prevalence of ATTR-CA has been noticed in another group of patients considered at risk of CA, i.e., those with aortic stenosis (AS) undergoing interventional procedures of percutaneous valve implantation or surgical valve replacement. A summary of CA screening studies published in this population was recently presented by Rapezzi et al.[22] in an editorial. However, considering the existence of some overlap between study populations presented in different manuscript (see, e.g, Refs[23-26]), we pulled together data from three independent cohorts of 595 AS patients screened using bone scintigraphy[24,26,27] and estimated an overall average prevalence of ATTR-CA of 11%[28]. Notably, genetic TTR testing was not routinely performed in these studies, and none found an independent significant impact of this new ATTR-CA diagnosis on prognosis in these AS patients.
Another population considered at risk of CA is the one with hypertrophic cardiomyopathy (HCM) diagnosed later in life. This was primarily highlighted in the study by Maurizi et al.[29] investigating a cohort of 343 consecutive patients referred with an initial diagnosis of HCM at age ≥ 40 years. They demonstrated that the prevalence of CA in this sample linearly increased with the age of HCM diagnosis, ranging from 1% at ages 40-49 years to 26% above 80 years, with the large majority of cases being ATTR-CA[29]. Similarly, by screening 114 patients with unexplained left ventricular hypertrophy (LVH) using cardiac magnetic resonance and bone scintigraphy together, Cariou et al.[30] found a 27% prevalence of ATTR-CA.
Overall, the above evidence confirms that at least one out of ten patients with HFpEF, AS, or HCM diagnosed later in life might have an overlooked ATTR-CA, and systematic screening of patients with these conditions using bone scintigraphy has been proposed by experts[4].
EVOLVING CONCEPTS IN THE EPIDEMIOLOGY OF THESE AT-RISK CONDITIONS
HFpEF
Although a unifying definition of HF is still under discussion[31], in developed countries, the prevalence of known HF is generally reported at 1%-2% of the general adult population[32]. Most studies estimated that over half of patients diagnosed with HF have HFpEF and that this is rapidly becoming the most prevalent form of HF, especially in the elderly[32-34]. Number of comorbidities and non-cardiovascular etiology have generally been reported to be higher in patients with HFpEF than in those with HF and reduced ejection fraction (HFrEF)[35]. Accordingly, non-cardiovascular modes of death represent nowadays a more relevant competing risk in HFpEF than in HFrEF[36]. For these and other reasons, hospital admissions of elderly and frail HFpEF patients are increasingly reported in internal medicine/geriatric wards as compared to cardiology wards[37-42], and this gap is expected to further broaden over time[43]. Observational studies have shown that HF patients treated by non-cardiologists were older, more often female, with more comorbidities, and with HFpEF[37-42]. Although these findings need to be confirmed in larger multinational consecutive HF populations, they should be carefully considered in light of the high ATTR-CA prevalence in HFpEF discussed above. Awareness and knowledge of CA (and particularly of ATTR-CA) is rapidly expanding within the cardiology community, whereas it should be increasingly shared with internal medicine physicians and physicians from other specialties, who are apparently caring for the vast majority of the HFpEF population. This is of utmost importance when one also considers that no therapeutic solutions are currently available for patients with HFpEF[44], with the exception of sodium-glucose co-transporter 2 inhibitors[45]. The discovery of a specific and potentially treatable etiology of HFpEF such as in the case of ATTR-CA may have a significant impact on the management and prognosis of the affected patient. In relation to this, it has also been argued that the inclusion of patients with a missed diagnosis of CA in HFpEF studies might have significantly hindered the results of some recent HFpEF clinical trials and contributed to the failure of some HFpEF treatments[46]. Thus, a multistep screening strategy is today suggested in HFpEF patients, recommending those with red flags for CA to undergo both a light-chain assay and a bone scintigraphy to exclude for the presence of CA. These further advancements in knowledge should be spread within the whole community of physicians caring for the HFpEF population today. At present, cardiologists should always be involved in the management of these patients, particularly in the in-patient setting[42], offering rapid consultation and specific diagnostic and therapeutic directives.
Aortic valve stenosis
AS is the most common primary valve disease leading to surgery or catheter intervention in Europe and North America, with a growing prevalence due to the aging population. It causes hemodynamic overload of the left ventricle and secondary LVH. Particularly in older subjects, AS may be underdiagnosed, as doctors and patients explain their declining exercise capacity with age[47,48] and under-treated due to the increased surgical risk with aging. However, the advent of percutaneous intervention has significantly contributed to increasing the number of potential candidates to valve replacement therapy, whose efficacy vs. standard surgical procedure has also been recently demonstrated in lower-risk groups[49]. This expanding population of AS patients coming earlier to diagnosis and treatment could be the focus of a global effort aiming at excluding potential overlapping causes of LVH and particularly CA. Characteristics of AS candidates to valve replacement considered at risk of CA have been identified and include patients with low-voltage patterns and conduction abnormalities at electrocardiography and those with low-flow low-gradient phenotype and restrictive filling transmitral patterns at echocardiography[50]. Echocardiography remains the fundamental examination for the diagnosis of LVH, which represents a primary trigger of ATTR-CA suspicion. The diagnostic yield of echocardiography could be significantly improved today by increasing the awareness of secondary causes of LVH among cardiologists performing the test. Thus, the echocardiography laboratory is a key place for investments aimed at raising the suspicion of ATTR-CA and increasing the number of early-stage ATTR-CA diagnoses.
HCM
Once considered a disease of the young, with sudden death in athletes being its most ominous clinical manifestation, HCM is now recognized as a more common condition, which is increasingly diagnosed in older middle-aged adults[51,52]. The most recent data from the international SHaRe registry (Sarcomeric Human Cardiomyopathy Registry) including over 7000 HCM patients diagnosed between 1961 and 2019 at six American and five non-American HCM referral centers show that the mean age at HCM diagnosis has been steadily increasing in the years, and it is nowadays an average of 52 years[53]. The rate of diagnoses > 60 years increased from 9.2% before 2000 to 31.8% after 2010, and the prevalence of patients diagnosed at > 70 years reached 10.7% after 2010. In addition, this greater representation of older patients was associated with a more sporadic form of disease, milder phenotypes, and more frequent genotype-negative status[53]. When these findings are related to those previously described showing an increasing likelihood of ATTR-CA in patients diagnosed with HCM at ≥ 40 years of age, the potential for a HCM misdiagnosis and missed CA diagnosis in these patients should be carefully considered. Further complicating the matter, several works are available describing the possibility of ATTR-CA presenting with features usually related to HCM, such as asymmetric LVH primarily involving the interventricular septum and left ventricular outflow tract obstruction. A cardiac magnetic resonance study of 263 patients with a definite diagnosis of ATTR-CA found asymmetric septal LVH in 79% of cases[54], and cases of ATTR-CA patients with outflow tract obstruction at rest or during stress have been reported[55,56].
The increasing possibility of misdiagnosing HCM in patients with suspected ATTR-CA is not only due to the abovementioned changes in epidemiology of HCM and its overlapping features with ATTR-CA, but also to the progressive increase in survival observed in HCM patients, with longevity to 90 years or older[57]. This allows, as in the case of AS patients described above, for the presence of a dual pathology responsible for the LVH of these subjects, i.e., an innate sarcomeric mutation plus an age-related infiltrative disease.
The changing epidemiology of ATTR-CA intersects with these evolving concepts in the epidemiology of HFpEF, AS, and HCM. Greater attention to the diagnostic and therapeutic pathways of patients affected by these conditions is therefore warranted in the near future and should involve not only cardiologists but also all physicians taking care of these patients. Knowledge of the changing epidemiology of these conditions should allow bringing ATTR-CA patients earlier at diagnosis and treatment.
UNDERSTANDING THE EPIDEMIOLOGY OF CARDIAC AMYLOIDOSIS: CAVEATS AND PITFALLS
Screening the abovementioned at-risk conditions will likely be the key for earlier diagnosis and treatment of ATTR-CA in the next future. However, all screening procedures must strike a balance between the proportions of false positives and false negatives that they will tolerate. This is especially true for those screening procedures whose the risk-benefit ratio has not yet been fully elucidated, such as in the case of ATTR-CA. Screening procedure are often designed to avoid false negatives, because it is generally considered worse to miss a case than to do an unnecessary complete diagnostic workup. On the other end, the cost of unnecessary investigations as well as the possibility of needlessly exposing a patient to unpleasant or life-threatening procedures makes it important to keep the false alarm rate low as well[58]. These issues apply to ATTR-CA screening as well, for which some important remarks are worth being made [Figure 1].
CONCLUSIONS
ATTR-CA is rapidly becoming the most prevalent form of CA, and screening of conditions considered at risk of CA has revealed that the prevalence of ATTR-CA might be higher than initially thought. At least one out of ten patients with HFpEF, AS, or HCM diagnosed later in life might have an overlooked ATTR-CA, and nowadays the diagnosis is made mostly at later stages of the disease. The therapeutic and prognostic implications of this finding appear limited, and screening at earlier stages is warranted. Nonetheless, challenges exist in systematically optimizing the diagnostic accuracy of the screening process, which should always exclude a plasma cell dyscrasia first and then use bone scintigraphy with tomographic imaging followed by genetic testing. Earlier and more comprehensive screening programs will likely result in increasing the number of ATTR-CA patients who will be candidates to newly available disease-specific treatments with a favorable cost-benefit balance.
DECLARATIONS
Authors' contributions
Wrote the first draft: Canepa M, Vianello PF
Revised it thoroughly before submission: Canepa M, Vianello PF, Porcari A, Merlo M, Scarpa M
All authors contributed equally to the design of this manuscript.
Availability of data and materials
Not applicable.
Financial support and sponsorship
None.
Conflicts of interest
Dr. Canepa received speaker and advisor fees from Akcea Therapeutics, Menarini, Novartis, Pfizer, Sanofi e Sanofi Genzyme, Vifor Pharma, and two investigator-initiated grants from Pfizer. Dr. Merlo received an investigator-initiated grant from Pfizer and speaker fees from Vifor Pharma. Dr. Scarpa received honoraria and/or research grant from Alexion, Azafaros, Chiesi, Takeda, Sanofi Genzyme, Ultragenix, Orchard. Other authors declared that there are no conflicts of interest.
Ethical approval and consent to participate
Not applicable.
Consent for publication
Not applicable.
Copyright
© The Author(s) 2022.
Cite This Article
OAE Style
Canepa M, Vianello PF, Porcari A, Merlo M, Scarpa M. Cardiac amyloidosis: a changing epidemiology with open challenges. Vessel Plus 2022;6:30. http://dx.doi.org/10.20517/2574-1209.2021.106
AMA Style
Canepa M, Vianello PF, Porcari A, Merlo M, Scarpa M. Cardiac amyloidosis: a changing epidemiology with open challenges. Vessel Plus. 2022; 6:30. http://dx.doi.org/10.20517/2574-1209.2021.106
Chicago/Turabian Style
Canepa, Marco, Pier Filippo Vianello, Aldostefano Porcari, Marco Merlo, Maurizio Scarpa. 2022. "Cardiac amyloidosis: a changing epidemiology with open challenges" Vessel Plus. 6: 30. http://dx.doi.org/10.20517/2574-1209.2021.106
ACS Style
Canepa, M.; Vianello PF.; Porcari A.; Merlo M.; Scarpa M. Cardiac amyloidosis: a changing epidemiology with open challenges. Vessel Plus. 2022, 6, 30. http://dx.doi.org/10.20517/2574-1209.2021.106