INTRODUCTION
The low cardiac output syndrome (LCOS) is generally described as the self-limited reduction of cardiac output that can occur in the first 24 h after cardiac surgeries requiring cardiopulmonary bypass (CPB). Although there is no strict, unified definition, the phenomenon is well recognized and described. The result is an imbalance of oxygen delivery and oxygen consumption at the cellular level that may lead to oxygen debt and organ dysfunction. If unrecognized or untreated, this condition can result in significant morbidity and mortality[1].
Along with considerable advances in cardiac surgery and CPB over the past decades, the prevention and management of LCOS have evolved to include a vast array of pharmacologic and non-pharmacologic strategies to restore the balance between oxygen delivery and demand. Pharmacologic therapies for LCOS have generally included catecholamine inotropes, inodilators, and systemic vasodilators. In addition, various other medications have been used to manage LCOS in the postoperative period but are less commonly used. Finally, for medically refractory LCOS, mechanical circulatory support can be deployed. In this review for Vessel Plus, we hope to summarize high-level evidence (randomized control trials, meta-analyses, systematic reviews) supporting the use of these pharmacologic therapies to manage LCOS and to utilize extensive surveys and registry reviews to describe current trends in their use.
Pathophysiology
The LCOS is the result of multiple pathophysiologic processes that complicate cardiac surgery requiring CPB. Individual patient characteristics, pre-operative state, intraoperative management, residual anatomic lesions, abnormalities in rhythm, and the inherent inflammatory nature of CPB all contribute to the derangements in systemic and pulmonary vascular resistances, cardiac output, oxygen delivery, and alterations in oxygen demand and metabolism [Figure 1].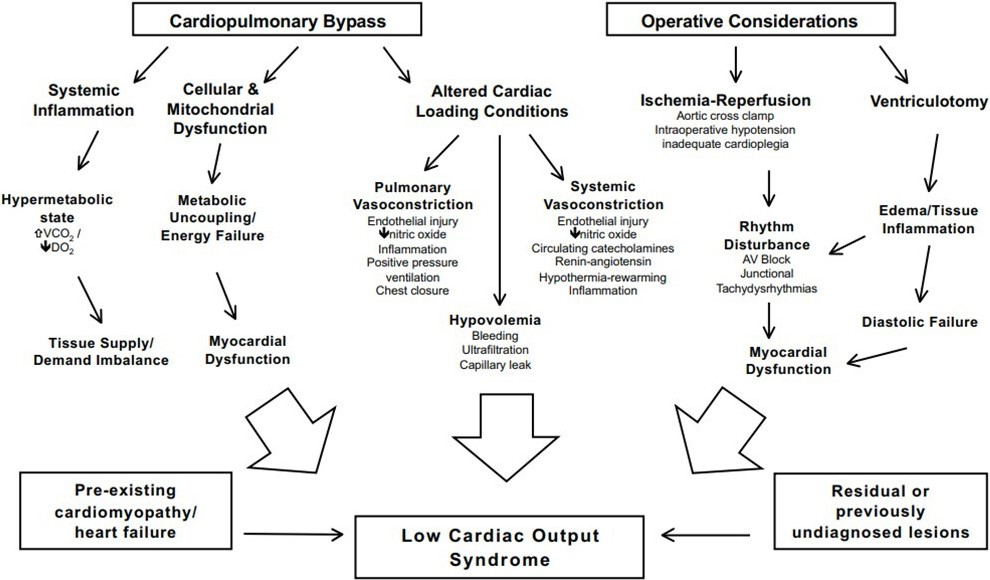 Figure 1. Perioperative factors leading to LCOS. Factors drivern by exposure to CPB (i.e., systemic inflammation, cellular & mitochondrial dysfunction, altered loading conditions) and those influenced by cardiac surgery (i.e., ischemia, ventriculotomy) are noted schematically contributing to LCOS. Reused with permission from Epting et al.[7] from Bentham Science Pulishers LTD. LCOS: Low cardiac output syndrome; CPB: cardiopulmonary bypass.
Pathologic alterations in cardiac loading conditions are the physiologic basis leading to the low cardiac output state. According to the Frank-Starling mechanism, diminished preload from hypovolemia, inflammation, or elevated filling pressures lead to reduced stroke volume. Respiratory abnormalities from pleural effusions, pneumothorax, or elevated airway pressure from mechanical ventilation have a deleterious effect on ventricular filling. Associated elevations in right ventricular afterload can complicate post-operative patient management, especially in those with right ventricular hypertrophy or dysfunction. Changes in pulmonary vascular resistance (PVR), systemic vascular resistance (SVR) after CPB, and specifically systemic hypertension, can decrease cardiac output after surgery. Furthermore, CPB stimulates vasopressin release, which increases SVR and can be deleterious to a dysfunctional systemic ventricle all leading to LCOS.
The exposure of blood to foreign antigens during CPB, along with hypothermia, myocardial ischemia, and reperfusion injury, can cause profound systemic inflammation[2,3]. Specifically, there are elevations in pro-inflammatory cytokines and activation of complement[4]. These are all associated with LCOS, increased ventilator time, and adverse neurologic outcomes[5,6]. In addition, there is also a hypermetabolic and catabolic state after surgery driving increased oxygen demand. Detailed reviews of the pathophysiology of LCOS have recently been well described by Epting et al.[7] and Bautista-Hernandez et al.[8].
Incidence
Parr and colleagues first described LCOS in 1975 when they observed patients with a cardiac index less than 2L/min/m2 in approximately 25% of patients after congenital heart surgery requiring CPB[9]. In the decades to follow, similar estimates of LCOS incidence in children were obtained by Wernovsky et al.[10] and Hoffman et al.[11]. However, a more recent study by Du et al.[12] found a LCOS incidence of ~10% with a contemporary cohort of 8660 children treated at a single center. In this study, independent risk factors for LCOS development included age, CPB time, residual shunts, outflow tract obstruction for either the left ventricle (LV) or right ventricle (RV), and tricuspid and mitral regurgitation. These risk factors and other clinical parameters have been used to develop LCOS scoring systems to assess LCOS severity[13]. Therefore, it is important to recognize and treat LCOS, as treatment may mitigate the associated morbidity and mortality after cardiac surgery[9]. Increased severity of LCOS has been specifically associated with increased duration of mechanical ventilation, intensive care unit (ICU) length of stay (LOS), and hospital LOS[13].
THERAPEUTIC OPTIONS FOR THE LOW CARDIAC OUTPUT SYNDROME
The fundamental principle guiding the management of LCOS is the maintenance of an appropriate balance between tissue oxygen delivery and demand. There exists a wide range of both invasive and non-invasive methods of monitoring patients for the development of LCOS and oxygen debt, and a detailed description is outside the scope of this article. However, once recognized, the general approach to LCOS management includes using means to increase oxygen delivery while reducing oxygen demand [Figure 2]. The pharmacologic augmentation of cardiac output is the most common method to improve oxygen delivery. Therapeutic agents that increase heart rate, improve contractility, or decrease afterload are commonly used. Optimizing preload to the heart is often the first-line approach, utilizing the Frank-Starling mechanism to improve stroke volume and cardiac output. Furthermore, maintaining atrioventricular synchrony and augmenting heart rate, either by pharmacologic therapies or temporary pacing, can also increase cardiac output and oxygen delivery. Normorthermia, mechanical ventilation, and sedation, with or without neuromuscular blockade, are common means in which to minimize patient effort and decrease oxygen demands. Although many simultaneous methods to manage LCOS are often deployed, we will summarize the evidence that supports the use of certain pharmacologic therapies and review trends in their utilization in the management of LCOS.
Catecholaminergic inotropes
Catecholaminergic inotropes such as epinephrine, dopamine, and dobutamine have long been used in the cardiac intensive care unit as pharmacologic means to manage LCOS by augmenting cardiac output. They predominantly activate β-1, β-2, α-1, and dopaminergic receptors. β-1 stimulation increases contractility through the binding of the actin-myosin complex with troponin C and enhances chronotropy through calcium channel activation. β-2 stimulation leads to increased calcium uptake by the sarcoplasmic reticulum leading to vasodilation. Activation of α-1 receptors on arterial vasculature results in smooth muscle contraction and increases in SVR. The relative affinity of the different catecholamines for the adrenergic receptors are dose-dependent, vary from drug to drug, and thus are employed to meet specific physiologic goals. In general, these agents increase contractility and stroke volume and are widely available. However, the adverse effects of catecholamines are relatively universal in their resultant tachycardia, raised ventricular end-diastolic pressures, and increased myocardial oxygen demand. Furthermore, the elevation of the SVR, PVR, or provocation of tachyarrhythmias by these agents can inadvertently cause or exacerbate LCOS. In a recent survey of cardiac intensivists, epinephrine and dopamine were the most common agents in this class used to prevent or treat LCOS, and these medications are most commonly started while on or coming off CPB[14]. However, in a recent Pediatric Health Information System (PHIS) database review of over 43,000 cardiac surgeries in children, the frequency of use of catecholaminergic inotropes has decreased in the past ten years[15]. This is likely due to our better understanding of LCOS and the more recent emphasis on reducing RV and LV afterload as alternative means to improve oxygen delivery.
Inodilators
Inodilators are medications that have inotropic and lusitropic effects on the myocardium and vasodilatory effects on the systemic, pulmonary, and coronary vasculature. Milrinone and levosimendan are the most commonly used medications in this category. Levosimendan, a calcium sensitizer, binds troponin C, increasing its affinity for calcium and increases inotropy without increasing myocardial oxygen demand. Its effects are independent of β-adrenergic receptors, and thus its use has a minimal incidence of arrhythmias. The most commonly reported side effects are headache, hypotension, and hypokalemia. The efficacy and safety of levosimendan are well reported in adults, but the pediatric literature is sparse and is limited to observational studies, registry studies, and few randomized control trials (RCT). In a study of 40 infants undergoing surgery with CPB managed with either levosimendan or milrinone, Lechner et al.[16] demonstrated that the levosimendan group had improvements in cardiac output and cardiac index. However, inotropic score, lactate levels, and ICU LOS were unchanged between groups. Using post-operative lactate as a surrogate marker of cardiac output, Momeni et al.[17] describe equal efficacy of milrinone and levosimendan in a cohort of 41 children following cardiac surgery; however, because of the high cost and lack of Food and Drug Association approval, levosimendan is not at this time widely used for the management of LCOS in the United States[14].
Milrinone has been studied extensively in children after surgery requiring CPB. Milrinone inhibits phosphodiesterase type 3 leading to an increasing concentration of intracellular cAMP, resulting in increased myocardial contractility. It also accelerates the removal of calcium from the cytosol, allowing more time for myocardial relaxation, thus its lusitropic effect. In addition, its effect on cGMP in the peripheral and coronary smooth muscle cells leads to smooth muscle vasodilation. These simultaneous changes improve myocardial performance without increasing myocardial oxygen demand, and thus milrinone has many advantageous properties. Many studies have reported the positive hemodynamic effects of milrinone in children after cardiac surgery. Most importantly, in the double-blind, placebo-controlled RCT PRIMACORP study, Hoffman et al.[11] demonstrated that high dose milrinone significantly reduced LCOS incidence without increases in adverse events. Since that landmark study, milrinone has become a widely used pharmacologic agent to prevent and treat LCOS in children. However, a 2015 Cochrane review concluded there was insufficient evidence of the effectiveness of prophylactic milrinone in preventing death or LCOS in children undergoing surgery for congenital heart disease[18]. Nonetheless, in a recent Pediatric Cardiac Intensive Care Society (PCICS) provider survey, 97% of respondents stated their center routinely uses milrinone to prevent or treat LCOS after CPB[14].
Systemic vasodilators
The purpose of using systemic vasodilators in managing LCOS is to increase stroke volume, cardiac output, and delivery of oxygen to the tissues while decreasing myocardial oxygen demand. Several medications in this class have been trialed in the treatment of LCOS, including systemic nitric oxide donors, natriuretic peptides, and α-antagonists. Sodium nitroprusside releases nitric oxide from vascular endothelial cells leading to systemic vasodilation. Appelbaum et al.[19] first described the use of nitroprusside after cardiac surgery and found a 17% increase in cardiac index. Similarly, the nitro-vasodilator nitroglycerine activates cGMP leading to vasodilation of the systemic arterioles and venules. However, due to its preferential effects on the venodilatory properties, it has been found to be less effective in vasodilation compared to nitroprusside[20]. The selective calcium channel blocker nicardipine has also been found to be safe and effective when treating postoperative systemic hypertension, even in children < 6 months of age[21]. Nesiritide, a recombinant form of brain natriuretic peptide, induces smooth muscle relaxation and mitigates the effect of vasopression, leading to vasodilation and promoting diuresis. Although initial adult studies of nesiritide use were associated with improved outcomes after cardiac surgery, subsequent more robust studies and a pooled analysis of RCTs failed to do so[22-24]. Phenoxybenzamine has also been used to block α-1 and α-2 receptors, relax the smooth muscle of systemic vasculature and increase cardiac output. Tweddell et al.[25] demonstrated an association between improved mortality and the use of phenoxybenzamine in infants with hypoplastic left heart syndrome after stage 1 palliation, thought to be attributed to reduced SVR, reduced fluctuation in systemic venous and arterial saturation, and improved balance of pulmonary to systemic ratio and delivery of oxygen. However, according to an international survey by Roeleveld and de Klerk[14], pure systemic vasodilators are not often used as first-line therapy for LCOS, except for patients with single ventricle circulation, where nitroprusside is the most commonly used agent.
Pulmonary vasodilators
Increases in PVR after CPB are one of the pathophysiologic mechanisms believed to contribute to LCOS development, and children with preoperative left-sided obstructive lesions and those with left to right shunts are at higher risk of elevated PVR following bypass. Cardiopulmonary bypass causes inflammation that inhibits nitric oxide production and increases the production of endothelin-1. Thus, inhaled nitric oxide (iNO) and its precursors have been trialed to treat or prevent LCOS. Inhaled nitric oxide is a selective pulmonary vasodilator with little effect on the systemic vasculature. Miller et al.[26] performed a prospective, double-blind RCT of iNO in 124 infants at risk for pulmonary hypertension (PH) and found that iNO reduced indexed PVR, number of PH crises, and proportion of patients mechanically ventilated at 7 days. In addition, a recent RCT of prophylactic iNO demonstrated a reduction in the incidence of LCOS and the need for ECMO, most markedly seen in children < 2 years of age, and after highly complex surgeries[27]. Another pulmonary vasodilator, the aerosolized prostacyclin iloprost, and iNO were found to be comparable in increasing cardiac output and decreasing pulmonary artery pressures[28]. However, in a study by Wong et al.[29] reviewing the PHIS database, of 1678 surgeries performed on patients with known PH, iNO was used only 11.6% of the time, and its use was associated with increased cost and LOS, with no improvement in mortality. Citrulline, a precursor to nitric oxide, has also been trialed to reduce LCOS incidence and improve outcomes but has not been shown to decrease PH episodes significantly[30]. Other inhaled agents such as sildenafil, milrinone, and prostaglandin have also been used for PH but less frequently for LCOS. At this time, there is insufficient data to support the routine use of pulmonary vasodilators such as iNO, as a Cochrane systematic review did not find differences in mortality or many secondary outcomes with its use[31]. However, to better investigate the utility of iNO to increase survival and ventilator-free days after CPB, the multicenter, randomized, double-blind NITric trial is currently underway[32].
CONCLUSION
The management of low cardiac output syndrome after pediatric cardiac surgery is evolving, and new pharmacologic therapies continue to emerge with ongoing research. At this time, there is insufficient evidence to support a single pharmacologic agent as the universal best therapy for the prevention or treatment of low cardiac output syndrome. Database reviews and surveys demonstrate that milrinone, epinephrine, and dopamine are the most commonly used pharmacologic therapies, but there remains substantial provider and center variability in the approach towards the management of these patients. Therefore, rigorous multicenter studies with granular data are needed to help providers tailor specific pharmacologic therapies to best support each critically ill child.
DECLARATIONS
Authors' contributions
Contributed to the creation, authorship, review and approval of this article: Sahulee R, McKinstry J
Availability of data and materials
Not applicable.
Financial support and sponsorship
None.
Conflicts of interest
Both authors declared that there are no conflicts of interest.
Ethical approval and consent to participate
Not applicable.
Consent for publication
The authors consent to the publication of this material.
Copyright
© The Author(s) 2022.