INTRODUCTION
Coronary microvascular dysfunction (CMD) manifests as functional decline of the arterioles and smaller vessels that supply the myocardium with blood. It is distinct from macrovascular atherosclerotic lesions that affect the coronary arteries [coronary artery disease (CAD)], although the two conditions are often present at the same time and can coexist on the same patient[1,2]. Indeed, > 30% of patients with CAD who have undergone percutaneous coronary intervention still present with angina post-surgery, which can be attributed to underlying CMD[3,4]. CMD is characterized by impaired coronary microvascular dilation resulting in insufficient blood, oxygen and nutrients reaching the cardiac tissue[2] and can ultimately lead to heart failure with preserved ejection fraction (HFpEF)[5]. CMD is much more difficult to diagnose than CAD as the symptoms of angina, fatigue and breathlessness can be caused by any number of different conditions, and definitive coronary provocative tests are not routinely conducted[6].
Conditions such as diabetes, hypertension and lifestyle choices (e.g., smoking) are known to predispose towards the development of CMD[5]. These risk factors also predispose individuals to CAD and atherosclerotic progression, so it is perhaps unsurprising that both macro- and micro-vascular coronary diseases often go hand-in-hand. However, epidemiological studies have revealed that CMD and HFpEF are more common in women, which are in direct contrast to population studies of CAD, where male gender is prevalent[5,7]. Thus, it is likely that the underlying cellular and molecular mechanisms leading to CAD and CMD, whilst having similar risk factors, are distinct from one another.
Coronary vasculature
Like all tissues in the body, the heart needs a robust blood supply to provide the oxygen and nutrients it needs to keep functioning. Myocardial tissue is perfused by a number of coronary arteries such as the right coronary, left main coronary, left anterior descending and left circumflex arteries. Coronary arteries have a typical diameter of 3-4 mm[8] and they are conductance vessels; their tone maintained by endothelial cell sensing and shear stress. They possess a thick muscular wall comprised of multiple layers of smooth muscle cells (SMC) and an adventitial outer layer [Figure 1]. These arteries feed pre-arterioles (100-400 μm in diameter) and arterioles (40-100 μm in diameter) which are resistance vessels and eventually give rise to the dense cardiac capillary bed. The tone of these microvascular arterioles is regulated principally by intralumenal pressure sensing by SMC[9] [Figure 1].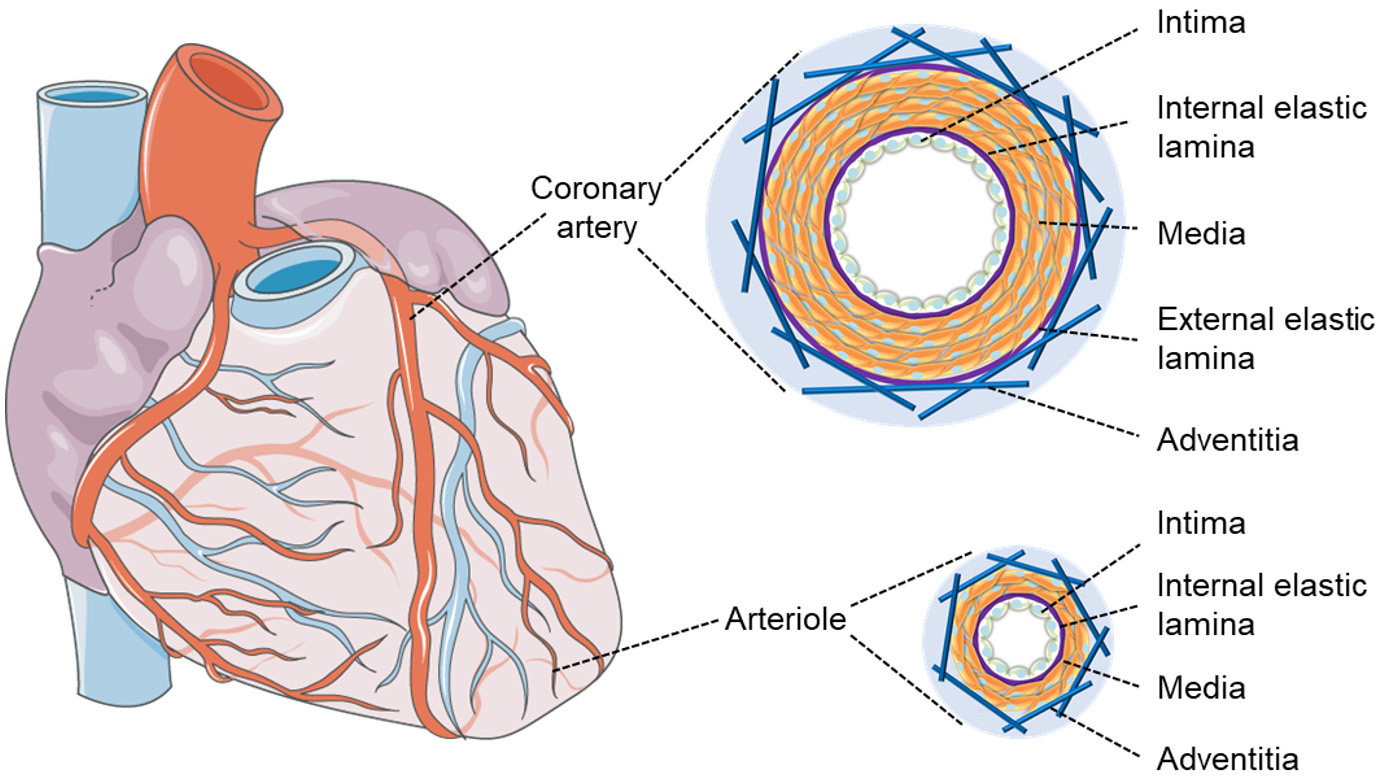 Figure 1. Structure of the coronary vasculature. Coronary arteries are comprised of an inner endothelial cell lining (intima), internal elastic lamina, multiple layers of smooth muscle cells (media), external elastic lamina and an outer adventitia comprised of fibroblasts and connective tissue. Coronary arteries branch into pre-arterioles and arterioles which are much smaller. Whilst they retain the triple layering (intima, media and adventitia) and internal elastic lamina, the external elastic lamina is lost and the medial and adventitial layers are much thinner.
Whilst coronary microvessels possess a functional SMC layer, smaller microvessels/capillaries recruit pericytes instead of SMC. Pericytes and SMC share the same embryological precursors but differ in their functionality and expression patterns. Pericytes express chemoattractants and help to stabilize endothelial tubes to support blood vessel development, whereas SMC express contractile markers and comprise mature vascular walls, without supporting endothelial tube formation[10].
Smooth muscle cells
SMC are the principal cell type in the vascular wall, comprising much of the cellular content of the medial layer. They maintain vascular tone through controlled contraction and relaxation in response to factors secreted from endothelial cells. Under healthy conditions, they exist in a contractile, differentiated phenotype. They adopt a spindle morphology, possess extensive contractile machinery [including alpha smooth muscle actin (α-SMA) and stress fibres], ion channels and calcium signalling proteins, and have a very low turnover rate[11,12].
In cases of disease (e.g., atherosclerosis) or injury (e.g., following revascularization surgery), SMC have an inherent ability to switch phenotype and dedifferentiate into a synthetic state. Here, the SMC loses its spindle morphology and becomes more rhomboid in shape. The contractile machinery is down-regulated and the cytoskeleton becomes disordered; signalling molecule expression changes from those that favour contraction to those that favour proliferation and migration. This phenotypic switching can be transient and is fully reversible, allowing the SMC to dynamically respond according to physiological and environmental demand[11,12]. SMC can also dedifferentiate into osteogenic[13] or macrophage-like phenotypes[14].
The phenotype of SMC possesses an extra level of complexity as it alters throughout the life course of an individual, and according to gender[15,16]. Relaxation, migration and ion channel responses decline with age, and SMC increasingly adopt a senescent and/or osteogenic phenotype and are no longer able to respond to signalling cues in the same way as younger SMC[17-20], which contributes to the age-related increase in cardiovascular diseases. A very recent study has demonstrated that SMC from atherosclerotic lesions in females have a distinct gene regulatory signature and phenotype compared to males, which contributes to atherosclerotic plaque stabilization[19]. Furthermore, female mice experience mineralocorticoid-specific vascular stiffening at much later ages than their male counterparts[21]. These findings are just the tip of the iceberg; a comprehensive analysis of SMC phenotype throughout the lifespan of males and females would be fascinating and may open up new avenues for personalized medicine with respect to CMD or CAD.
Given that both macrovascular coronary arteries and microvascular coronary arterioles possess a functional medial layer of SMC [Figure 1], one might expect that they are phenotypically comparable. However, a complex relationship exists between macrovascular and microvascular SMC; whereby the behaviour and phenotype of one can have diverse effects on the behaviour and phenotype of the other[22]. This article will review evidence pertaining to differential phenotypes between SMC from the coronary arteries and the coronary microcirculation. It will then discuss how these phenotypes contribute to CMD and how common underlying conditions such as diabetes, hypertension or smoking affect macro- and micro-vascular SMC in different ways.
SMC PHENOTYPE IN MICRO- VS. MACRO-VESSELS
Previous studies have highlighted phenotypic and behavioural differences in endothelial cells isolated from microvascular and macrovascular sources[23-25]. Furthermore, phenotypic differences have been observed between SMC from different macrovessels (internal mammary artery and saphenous vein) from the same patients[26]. Thus, it is entirely likely that SMC from the microcirculation will be phenotypically distinct from those from the macrocirculation.
Data regarding phenotypic differences between coronary microvascular and macrovascular SMC are remarkably scant. The few studies that have assessed this have focused on differences within the contractile phenotype. Human coronary arterial SMC are reportedly stiffer than their microvascular counterparts (elastic modulus > 7 kPa vs. < 4 kPa). However, these studies exploited differing experimental parameters and so cannot be definitively compared[27,28]. Nonetheless, given that arteries are conductance vessels and arterioles are resistance vessels, this is likely to be true. In addition to stiffness of both the cell and the extracellular matrix, SMC contractility is tightly interlinked with ionic flux (described in greater detail below). In a Yucatan swine model, spontaneous transient outwards K+ currents were much more frequent in coronary microvascular SMC vs. macrovascular SMC[29]. These spontaneous K+ currents have been associated with triggering vasorelaxation[30] and these observations fit with the concept of microvascular tone being controlled through SMC pressure detection.
SMC phenotypic differences between macrovascular and microvascular beds represent an area that is greatly understudied. An examination of the contractile, proliferative and secretory ability of these cells in both settings would be valuable in assessing their influence on cardiovascular disease development, and may give insight into medication strategies that may be beneficial for CMD specifically, rather than cardiovascular disease as a whole.
SMC PHENOTYPE IN CORONARY MICROVASCULAR DYSFUNCTION
The principal feature of CMD is a failure of the cardiac microvasculature to respond appropriately to changes in myocardial oxygen demand. It can be caused by problems with vasodilation or by coronary microvascular spasm causing an acute reduction in blood flow[2]. To date, more emphasis has been given to researching how endothelial cells contribute to CMD, with comparably fewer studies conducted on SMC despite their crucial role in maintaining vascular tone.
Vasoconstriction and vasorelaxation
Ca2+ signalling is a major underlying cellular mechanism controlling SMC tone and contraction in the microvasculature. Activation of the Na2+/K+ ATPase pump and inwardly rectifying potassium (KIR) channels[31], and calcium-activated potassium (KCa) channels[32] induce membrane hyperpolarization and vasorelaxation. KCa channels are a family of three different classes; small-conductance Ca2+-activated potassium channels (SKCa), intermediate-conductance Ca2+-activated potassium channels (IKCa), and large-conductance Ca2+-activated potassium channels (BKCa), the latter being prevalent in SMC. Hence, understanding the ion channel landscape of these cells is imperative for understanding SMC function. This has recently been extensively reviewed[17] and is summarized in Figure 2. It is clear that there is complex cross-talk between transient receptor potential (TRPC/TRPM) channels, voltage-gated calcium channels (CaV), KCa, voltage-gated potassium channels (KV), ATP-activated potassium channels (KATP) and KIR channels to control intracellular Ca2+ levels and K+ flux.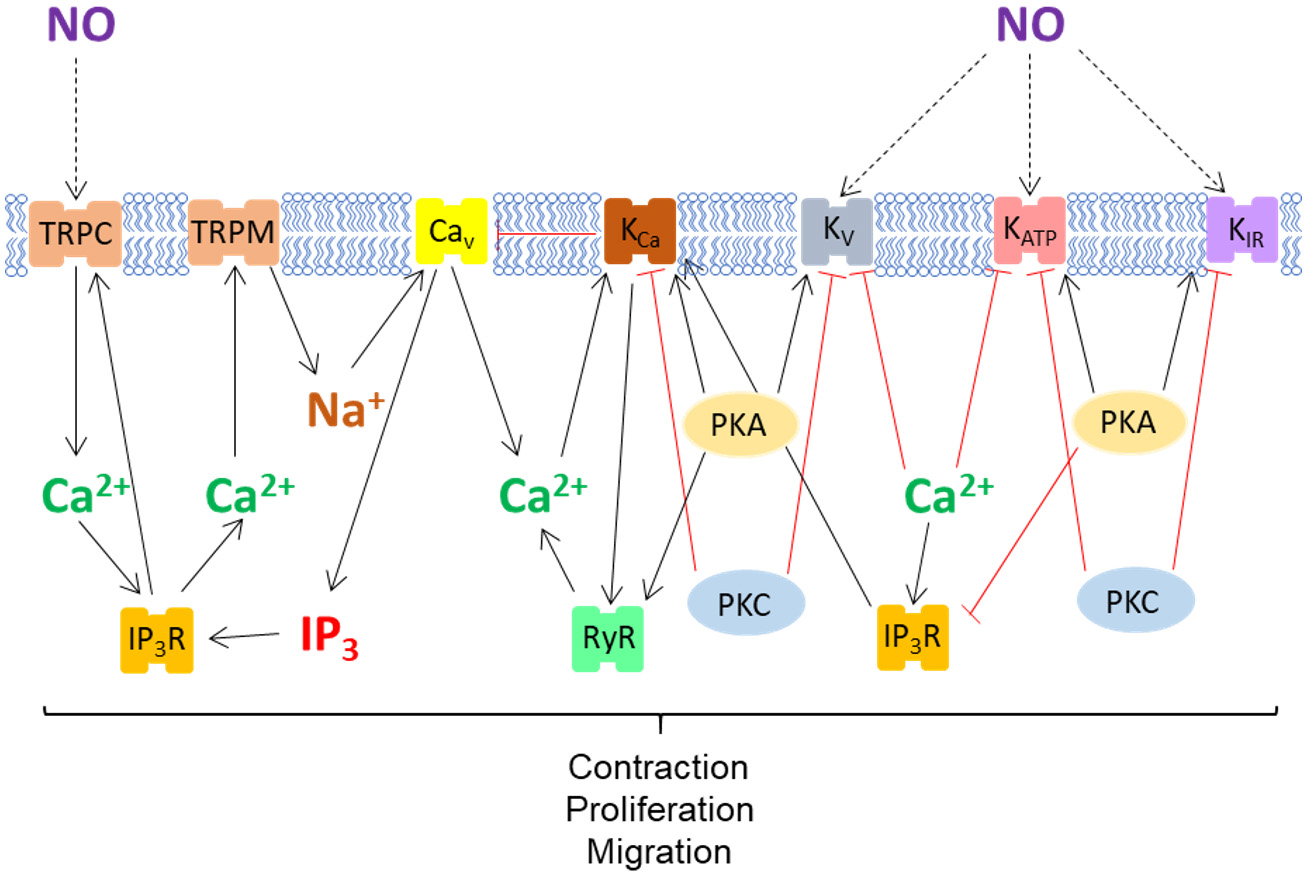 Figure 2. Ion channel signalling in the microvasculature. Regulation of SMC contractility is dependent upon calcium signalling. Microvascular SMC express multiple ion channel subtypes that can influence the level of Ca2+ within the cell, and there is a complex interplay and balance between the channel sub-types. The balance of this signalling dictates whether the cell undergoes contraction/relaxation, proliferation or migration. Black arrow: stimulatory. Red arrow: inhibitory. Dashed arrow: indirect. KCa: Calcium-activated potassium channel; CaV: voltage-gated calcium channel; IP3: inositol triphosphate; IP3R: inositol triphosphate receptor; KATP: ATP-activated potassium channel; KIR: inwardly-rectifying potassium channel; KV: voltage-gated potassium channel; NO: nitric oxide; PKA: protein kinase A; PKC: protein kinase C; RyR: ryanodine receptor; TRPC: transient receptor potential C; TRPM: transient receptor potential M.
CMD is associated with a failure of the coronary microcirculation to relax appropriately in response to myocardial oxygen demand. Recently, Zhao et al.[33] have demonstrated that cardiomyocyte ATP depletion directly leads to hyperpolarization of neighbouring microvascular SMC via gap junctions, reducing intracellular Ca2+ levels and causing vasorelaxation to increase myocardial blood flow. Whether gap junctions are inhibited in CMD in microvascular SMC has yet to be determined; however, gap junctions between cardiomyocytes and endothelial cells are depleted in CMD in a diabetes setting[34]. It is possible that a similar depletion occurs with SMC in CMD, leading to defects in vasorelaxation.
Proliferation and migration
Early studies into CMD identified SMC hypertrophy in coronary microvessels, with an abundance of contractile machinery. This, in combination with a thickened basement membrane and endothelial cell proliferation, resulted in marked reduction in lumenal space[35]. In contrast to this apparent acquisition of a hypercontractile differentiated SMC phenotype, later studies have identified increased coronary microvascular SMC proliferation in CMD patients which is indicative of a dedifferentiated, synthetic phenotype[36]. It is possible that in CMD, SMC adopt a "mixed" phenotype that has features of both contractile and synthetic cells. This is not without precedent, as a similarly mixed phenotype has been observed in macrovascular saphenous vein SMC from patients with T2DM, whereby they exhibit a combination of differentiated (increased expression of α-SMA, low proliferative rate) and dedifferentiated (rhomboid morphology, disorganized cytoskeleton) features[26,37,38].
Studies in hypothyroid rats have revealed that treatment with triiodothyronine (T3) induced rapid microvascular SMC remodelling through strengthening the contractile phenotype and switching the expression of angiopoietins to favour Angpt1 over Angpt2[39]. This would promote and stabilise microvascular angiogenesis[40] and could help to ameliorate the effects of CMD. Given that hypothyroidism is more common in women[41], this may be one of the underlying mechanisms contributing to CMD. Indeed, even subclinical hypothyroidism has been associated with impaired coronary microvascular function[42]. Few studies have examined the impact of T3 on coronary artery SMC; however, it is reported to prevent calcification[13] and increase vasorelaxation in rodent coronary arteries[43].
EFFECT OF PREDISPOSING CONDITIONS ON SMC FUNCTION
There are a number of conditions that can predispose individuals to develop both CMD and CAD. These include medical conditions including diabetes and hypertension, and lifestyle choices such as smoking. However, given that CMD is more prevalent in young women and CAD is more prevalent in middle-aged men, it may be that these predisposing conditions have differential effects on coronary micro- and macro-vascular SMC.
Diabetes and obesity
Obesity predisposes individuals to the development of metabolic syndrome and overt T2DM. In a porcine model of metabolic syndrome, microvascular coronary arterioles exhibit hyper-contractile responses via activation of phospholipase A (PLA). Although the authors did not examine whether the increased expression of PLA was in the endothelial cells or SMC, the fact that coronary microvascular SMC were hypercontractile remains[44]. In keeping with obesity being a precursor to diabetes and cardiovascular dysfunction, studies in rodents have shown that the coronary microvasculature initially enhances its responses to vasodilators such as NO by increasing BKCa channel activity and/or sensitivity as an adaptive mechanism to maintain cardiac perfusion[45]. In contrast, reduced expression of KV and parallel increased expression of CaV1.2 result in elevated intracellular Ca2+ levels and hypercontractility in a swine model of obesity[46]. Thus, it is very important to assess the experimental model that is being used to investigate the functional landscape of ion channels in microvascular SMC.
There is a large body of work examining the effect of T2DM on SMC phenotype and function across multiple vascular beds. The structure of small coronary resistance vessels is not affected by the presence of T2DM, with no obvious gross changes at the tissue level[47]. There are, however, changes apparent with T2DM with regards to microvascular SMC function. In a cell culture model, coronary microvascular SMC from T2DM patients had reduced stiffness, yet could generate a higher contractile force[27]. It is possible that this may explain how T2DM contributes to CMD by increasing the strength of microvascular vasospasm.
At the molecular level, T2DM causes changes in ion channel expression and activity that favour contraction over relaxation. Recent studies have identified that the expression and sensitivity of BKCa channels, and resultant SMC vasodilation are reduced in human coronary arteriolar SMC in T2DM patients[48]. Furthermore, a Yucatan swine model of diabetes has revealed impaired K+ currents and reduced Ca2+ sparks in the coronary microcirculation[29], strengthening the concept that diabetes is associated with decreased BKCa expression and function and dysregulation of SMC contractility. This appears to be specific to K+ channels as T2DM has no effect on the Na2+/K+ ATPase pump[31]. Altered KIR functionality in diabetes is complicated by the fact that activity is either unaffected or reduced dependent on the environmental factors that are stimulating the channel[31,49]. Furthermore, coronary microcirculation SMC from T2DM patients switch expression of integrins from the 1 subunit to 3 which affects their adhesion to components of the extracellular matrix[27]. Endothelial arteriogenesis is dependent on the β1 integrin subunit[50], so the transition to β3 in microvascular cells in diabetes could conceivably contribute to impaired collateral formation and cardiac ischaemia.
In contrast to the absence of structural changes in microvessels in T2DM, the coronary arteries of these patients demonstrate gross structural changes, namely, they are narrower than those from patients without diabetes. This is even in the absence of atherosclerotic lesions[51] (which are known to be more widespread and diffuse in T2DM arteries compared to non-diabetes patients[52]) and is due to excessive SMC proliferation and migration into the intimal space. Hyperglycaemia bestows protection from apoptosis and triggers the mitogenic ERK p42/44 MAPK pathway[53]. This demonstrates the acquisition of a dedifferentiated, synthetic phenotype in macrovascular SMC in diabetes, as opposed to the differentiated contractile phenotype observed in the microvasculature. The molecular changes underpinning why diabetes can affect the phenotype of SMC in such diverse ways, potentially even within the same patient, are not fully understood.
Interestingly, the impairment of BKCa channel expression appears ubiquitous across vascular beds with T2DM, with reduced expression and function being reported in coronary artery SMC from rodent models[54] and human coronary artery SMC cultured in the presence of high glucose concentrations[55]. However, the influence of diabetes on other K+ mediators such as the Na+/K+ ATPase pump and KIR channels within coronary arteries has not been examined. Evidence from diabetic aortic SMC suggests that the Kir subunits of the channel are not affected by diabetes, yet expression of the SUR2B subunit is markedly inhibited[56]. Unfortunately, the influence of diabetes and/or hyperglycaemia on Na+/K+ ATPase activity varies according to species and vascular bed[57-59], thus extrapolating a hypothesis on whether this pump is affected in coronary artery SMC is impossible. In terms of proliferation and adhesion to the extracellular matrix, recent studies have found marked reductions in the development of atherosclerosis in a diabetic porcine model when the animals are treated with an integrin αVβ3 blocking antibody. Here, the authors suggest that the atheroprotective mechanism of action of the antibody is via blocking the pro-proliferative influence of αVβ3[60].
Type 1 diabetes (T1DM) accounts for up to 8% of all diagnosed diabetes cases (www.diabetes.org.uk). It is associated with microvascular dysfunction contributing to diabetes-related cardiomyopathy, where the myocardium becomes fibrotic and there is a reduction in both microvascular endothelial cell and SMC number. What causes this loss of cells is unclear - is it a result of apoptosis, necrosis or proliferative defects? However, in vivo models have shown that application of SMC with endothelial progenitor cells to the myocardium of T1DM rodents is sufficient to at least partially reverse the cardiomyopathy[61]. Similarly to T2DM, T1DM is associated with a reduction in BKCa channel expression and function in the coronary macrovasculature[62], and an increase in adenosine A2A receptor expression[63]. Interestingly, this receptor is associated with a reduction in neointimal hyperplasia and could conceivably contribute to coronary artery SMC being maintained in a contractile phenotype[64]. However, A2A receptors activate both KV and KATP channels[65], and these potassium channels promote vasorelaxation (reviewed in[66]). The ultimate phenotypic change observed in T1DM coronary vessels is therefore likely a cumulative response to the delicate balance between signalling pathways that are activated in each SMC.
Hypertension
The influence of essential hypertension on microvascular structure is contentious. Whilst some studies have demonstrated no effect of hypertension on the structure of small coronary resistance vessels[47], others have shown that hypertension increases arteriolar wall thickening through hyaline arteriosclerosis[67]. This discrepancy may be due to the different models used - whilst Chen et al.[67] performed their experiments on hypertensive rabbits, Lynch et al.[47] used human coronary arterioles for their work. Furthermore, human coronary resistance microvessels were stiffer than their normotensive counterparts[47], and, in a mini-pig model, exhibited impaired vasodilation to adenosine independently of nitric oxide inhibition[68]. These functional alterations could conceivably directly contribute to CMD by reducing vasodilation and increasing vasoconstriction and/or spasm.
Hypertension is intimately linked with the RhoA-ROCK signalling axis (reviewed in[69]). Information regarding RhoA activity in coronary microvascular SMC, particularly in hypertension, is lacking. However, RhoA is known to be increased in pulmonary microvascular SMC during the development of pulmonary hypertension[70], so it is probable that RhoA is elevated in coronary microvascular SMC. GRAF3 is a negative regulator of RhoA activity, and SNPs resulting in reduced GRAF3 expression are common in hypertensive patients. This results in elevated RhoA activity and contractile gene expression in human coronary artery SMC[71]. Indeed, treatment of patients suffering coronary artery spasm with fasudil, a Rho kinase inhibitor, improves vasodilation and ameliorates chest pain[72], confirming the critical role that the RhoA-Rho kinase pathway plays in both micro- and macro-vascular cardiac disease.
Hayenga et al.[68] conducted an elegant study on hypertensive mini-pigs that revealed that hypertension did not induce global changes in macrovascular structure. Specifically, cerebral arteries had no discernible structural changes after 8 weeks of hypertension. However, both coronary arteries and the aorta exhibited increased wall thickening as soon as 2 weeks after the introduction to hypertension and this was mirrored by a parallel increase in the number of medial cells present. This suggests an increase in SMC proliferation but interestingly, the expression of α-SMA was also increased with hypertension[68]. It is therefore possible that, in hypertension, coronary arterial SMC adopt a mixed phenotype which, in combination with the mixed SMC phenotypes present in CAD, will make pharmaceutical intervention problematic.
Smoking
Smoking is known to predispose individuals to a plethora of cardiovascular pathologies including CMD and CAD. A very recent study has demonstrated that exposure to nicotine during pregnancy and early life conveys an increased risk of vascular dysfunction in adulthood. This is through an epigenetic mechanism whereby early nicotine exposure leads to persistent up-regulation of microRNA-181a and consistent, prolonged down-regulation of its target, BKCa, in coronary vessels[73], which could contribute to both the aberrant vasorelaxation observed in CMD and the dysfunctional SMC phenotype in CAD.
Exposure of human coronary artery SMC to cigarette smoke in vitro up-regulates the expression of ADAMTS7[74]. This protein is involved in degradation of the extracellular matrix and is associated with characteristics of vulnerable plaques including chest pain, low SMC content and enhanced lipid accumulation[75], and with SMC de-differentiation[76]. The expression of ADMATS7 in microvascular SMC has not yet been assessed. However, given that ADAMTS7 is associated with dedifferentiation and migration, one may hypothesise it would be reduced in hypercontractile CMD. Whether cigarette smoking modulates this remains to be seen.
In vivo, exposure to nicotine particles increases the expression of endothelin (ET-1) A and B receptors via ERK and the pro-inflammatory NFκB pathway, leading to enhanced coronary artery vasoconstriction[77,78]. Interestingly, the effect of ET-1 on coronary vessels is dependent on vessel size - in a canine model, ET-1 induced vasoconstriction of the coronary arteries but a dilation of the coronary arterioles[79]. The underlying molecular mechanisms leading to this are unclear, but are likely due to alterations in the expression of ET-1 A and B receptors and signalling intermediaries (such as RhoA-Rho kinase[80]) between the macro- and micro-vascular SMC.
One of the most intriguing questions surrounding CMD is why it is more prevalent in females. Dinardo et al.[81] (2015) examined macrovascular SMC from the internal thoracic artery, and discovered the female gender and smoking were both independently associated with increased SMC stiffness. Enhanced SMC stiffness would contribute to CMD if it was evident in the coronary microcirculation. However, it would not necessarily explain why women are less likely to develop CAD.
It is clear from the information presented above that predisposing conditions can have diverse effects on SMC phenotype that can differ across the micro- and macro-vessels [Table 1]. It is likely that it is a cumulative effect of multiple competing molecular triggers from different co-morbidities that define the eventual SMC phenotype in CMD and CAD.
Table 1
SMC phenotype in response to different predisposing conditions. Hypertension, obesity, smoking and diabetes all predispose individuals to developing CMD and/or CAD through changing molecular expression pattern in microvascular or macrovascular SMC
Predisposing condition
CMD SMC phenotype
CAD SMC phenotype
Ref.
Hypertension
Pro-contractile (differentiated)
↑ RhoA
? α-SMA
Mixed phenotype (both de-/differentiated)
↑ RhoA
↑ α-SMA
[71-73]
Obesity
Mixed phenotype (both de-/differentiated)
↑ PLA
↑ BKCa
↓ KV
↑ CaV1.2
Unknown phenotype
Studies yet to be completed
[45-47]
Smoking
Anti-contractile (dedifferentiated)
↓ BKCa expression
? ADAMTS7
↓ ET-1 vasoconstriction
Mixed phenotype (both de-/differentiated)
↓ BKCa expression
↑ ADAMTS7
↑ ET-1 vasoconstriction
[74-75,78-80]
Type 1 diabetes mellitus
Synthetic (dedifferentiated)
↑ Fibrosis
? Ion channel expression
Mixed phenotype (both de-/differentiated)
↓ BKCa
↑ KV
↑ KATP
↑ A2A receptor
[62-64,66]
Type 2 diabetes mellitus
Pro-contractile (differentiated)
↓ BKCa expression
↔ Na2+/K+ expression
↔ KIR expression
↑ Integrin β3
Pro-proliferative (de-differentiated)
↓ BKCa expression
? Na2+/K+ expression
?/↓ KIR expression
↑ Integrin β3
[28,32,49-50,54-55,57-61]
CONCLUSION
SMC are the principal cell type of the vascular wall. They are highly plastic and can respond to different cues - both physiological and pathophysiological - to alter their phenotype and behaviour. Whilst differentiated, contractile SMC are prevalent in healthy vessels, CMD is characterized by a hyper-contractile phenotype that results in microvascular spasm, impaired vasorelaxation and consequently chest pain. Many factors predispose individuals to developing CMD; these include gender, age, co-morbidities such as diabetes and high blood pressure, and lifestyle choices such as smoking.
Given the key role that SMC play in the regulation of vascular tone, it is surprising that so few mechanistic studies have been performed on this cell type, and coronary microvascular SMC remain an under-developed area of research. An examination of the molecular changes in microvascular SMC with predisposing conditions is still in its infancy. Altered molecular and phenotypic signatures in coronary artery SMC have received much greater recognition, yet it is clear that microvascular and macrovascular SMC can respond differently to the same challenges (for example, vasorelaxation or vasoconstriction in response to ET-1). This review has highlighted a number of knowledge gaps in the literature that are worthy of further study:
1. What are the phenotypic differences between microvascular and macrovascular SMC from the same individual, and how are the molecular signatures underpinning this affected by age and gender?
2. How does the ion channel landscape change in human coronary microvascular SMC during the development of CMD?
3. SMC defects are evident in CMD, but there remain species- and vascular bed-specific alterations in protein expression and cell function. How can we generate a model of SMC that specifically examines human CMD, without invasive cardiac biopsies?
4. A reduction in BKCa expression and/or activity appears to be a ubiquitous feature of a number of disorders that predispose an individual to CMD. Can we design therapeutics that restore BKCa in these circumstances to ameliorate CMD?
In summary, a comprehensive examination of SMC phenotypic differences between the coronary microvasculature and the coronary arteries may help to identify new therapeutic targets for CMD that would be amenable to manipulation to restore SMC functionality particularly within these tiny, yet crucially important, vessels.
DECLARATIONS
Authors' contributions
The author contributed solely to the article.
Availability of data and materials
Not applicable.
Financial support and sponsorship
None.
Conflicts of interest
The author declares that there are no conflicts of interest.
Ethical approval and consent to participate
Not applicable.
Consent for publication
Not applicable.
Copyright
© The Author(s) 2021.