1ANMCO Research Center, Fondazione per il Tuo cuore, Florence 50121, Italy.
2GVM Care & Research, Maria Cecilia Hospital, Cotignola 48010, Italy.
3Catholic University of the Sacred Heart, Rome 00168, Italy.
4Fondazione Policlinico Universitario A. Gemelli IRCCS, Rome 00168, Italy.
Correspondence Address: Dr. Aldo Pietro Maggioni, ANMCO Research Centre, Heart Care Foundation, Via La Marmora, 36-Florence, 50121, Italy. E-mail: maggioni@anmco.it
Abstract
A relationship between inflammatory activity, on the one hand, and haemostasias, cardiovascular risk factors and multiple phases of atherothrombotic diseases, on the other hand, has been documented for decades, but only recently have four large trials tested whether anti-inflammatory drugs could prevent major cardiovascular events (MACE) in > 25,000 patients followed on average for 1.9-3.7 years. In patients with recent myocardial infarction (MI) and serum C-reactive protein (CRP) ≥ 2 mg/L, the CANTOS trial showed that subcutaneous three-monthly 300 mg canakinumab [a high-cost, monoclonal antibody to interleukin (IL)-1β] reduced MACE versus placebo, but it increased fatal infections. In patients with recent MI (COLCOT trial) and in patients with chronic coronary syndromes (LoDoCo2 trial), oral 0.5 mg daily colchicine [a low-cost inhibitor of nucleotide-binding oligomerization domain (NOD)-like receptor (NLR) family pyrin domain containing protein 3 (NLRP3) inflammasome] reduced MACE compared to placebo, with a small but significant increase in pneumonia (0.9% vs. 0.4% in COLCOT; not confirmed in LoDoCo2). In coronary artery disease patients with type 2 diabetes or metabolic syndrome, the CIRT trial found that oral 15-20 mg weekly methotrexate (an anti-rheumatic drug with multiple effects including inhibition of nuclear factor kB activity) compared to placebo did not reduce MACE, nor circulating IL-6 or CRP, while increasing the risk of non-basal cell skin cancer. Thus, three out of four large trials have now proven that drugs inhibiting the IL-1/IL-6 inflammatory axis can prevent MACE in patients with coronary artery disease. Colchicine, given its overall profile, is likely to become an integral part of secondary cardiovascular-disease prevention strategies.
Keywords
Inflammation, atherosclerosis, thrombosis, cardiovascular events, colchicine, canakinumab, methotrexate
Introduction: inflammation in cardiovascular disease
Inflammation characterizes at least six aspects of cardiovascular disease. First, an acute-phase response occurs immediately after the onset of myocardial infarction (MI), with peak plasma C-reactive protein (CRP) values and the duration of CRP elevation related to the extent of infarction[1-3]. Second, subclinical low-grade inflammation increases the risk of cardiovascular events; seminal epidemiological studies first showed this, with raised levels of plasma fibrinogen or white blood cell count within the normal range predicting cardiovascular events[4-6], and then Maseri's group reported that CRP levels could predict adverse outcomes in patients with unstable angina[7]. Third, atherosclerosis itself can be defined as a chronic inflammatory disease[8]. Fourth, acquired cardiovascular risk factors are related to subclinical inflammation in a graded way: the more risk factors, the greater the levels of CRP[9]. Fifth, flares of vascular and atherosclerotic plaque inflammation underlie acute coronary syndromes and run hand in hand with plaque instability and its thrombotic complications[10,11]. Sixth, inflammatory cytokines induce hepatic and endothelial-cell synthesis and secretion of prothrombotic factors[3]. On this broad and longstanding background, inflammation has grown to be considered a potential therapeutic target for the secondary prevention of atherothrombotic events[10,12,13], involving in particular the interleukin (IL)-1/IL-6/CRP axis[9,14]. Only recently, however, have four large scale studies tested whether treatment with anti-inflammatory drugs, approved for other diseases, could prevent atherothrombotic cardiovascular events.
Major randomized placebo-controlled trials
Mechanisms of action of canakinumab, colchicine and methotrexate
Suppression of the inflammatory response by the above drugs occurs at different levels [Figure 1]. Canakinumab is a recombinant anti-IL-1β monoclonal antibody of the immunoglobulin G1/κ subclass. It neutralizes the inflammatory signaling induced by the IL-1β interaction with IL-1 receptors on lymphoid, myeloid, endothelial and other cell types[15,19]; IL-1β is a key mediator of Th17 development[20]. Colchicine is a plant-derived alkaloid that reduces the synthesis of IL-1β, IL-2 and IL-6 by inhibiting tubulin polymerization and consequently the nucleotide-binding oligomerization domain (NOD)-like receptor (NLR) family pyrin domain containing protein 3 (NLRP3) inflammasome arrangement in monocytes and other cells[21,22]. Colchicine is also reported to downregulate neutrophil adhesion and recruitment, superoxide anion production and mast cell degranulation[21,22] and to inhibit cholesterol-crystal induced endothelial pyroptosis, oxidative stress and monocyte chemotaxis[23], as well as platelet aggregation and endothelial cell prothrombotic effects induced by oxidized LDL[24,25]. In an animal model, colchicine protected against acute cerebral ischemia by inhibiting exocytosis and chemotaxis[26]. Methotrexate is a disease-modifying anti-rheumatic drug with multiple effects, including inhibition of nuclear factor κB activity[27], and is used in chemotherapy as inhibitor of dihydrofolate reductase and, consequently, of DNA/RNA synthesis; this drug also increases intracellular and extracellular levels of adenosine[27]. Nonetheless, its administration in humans failed to reduce circulating IL-1β, IL-6 and CRP levels and the occurrence of cardiovascular events[16].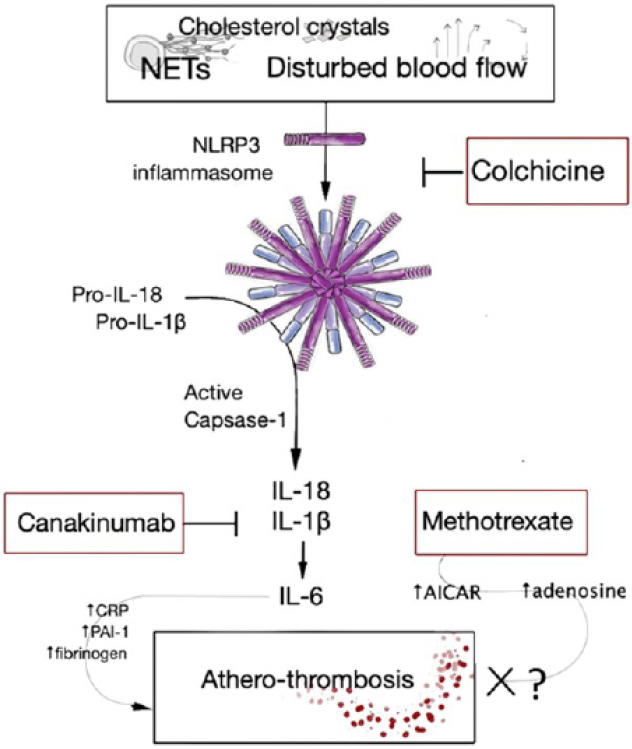 Figure 1. Inflammatory signaling inhibited by colchicine, canakinumab and methotrexate. The NLRP3 inflammasome is inhibited upstream to its assembly by colchicine, whereas canakinumab acts downstream, after caspase-1-dependent cleavage of pro-IL-1β. Methotrexate has multiple effects including inhibition of AICAR transformylase, leading to AICAR accumulation and adenosine release at inflamed sites. AICAR: 5-aminoimidazole-4-carboxamide ribonucleotide; CRP: C reactive protein; IL: interleukin; NET: neutrophil extracellular traps; NLRP3: nucleotide-binding oligomerization domain(NOD)-like receptor (NLR) family pyrin domain containing protein 3 (NLRP3); PAI-1: plasminogen activator inhibitor type 1.
Clinical and research implications
Updated secondary prevention in clinical practice
CANTOS, COLCOT and LoDoCo2 expand the scenario of secondary prevention strategies for coronary heart disease. CANTOS proved the strong involvement of the inflammatory cytokine IL-1β in atherothrombotic events, and colchicine confirmed the benefit of inhibiting inflammation in patients with recent MI or chronic coronary syndromes. Inflammation therefore might be added to the three traditional therapeutic targets (thrombosis, lipid metabolism and neuro-hormonal system) [Figure 2]. It is very likely that forthcoming updated versions of international guidelines will contain indications on the use of the anti-inflammatory drug colchicine for secondary prevention purposes. The addition of a new drug on top of existing ones will rekindle the problem of adherence to recommended treatments for both prescribers and patients, and it may encourage possible de-prescribing (in this context, for example, the role of beta-blockers for all patients with chronic coronary syndrome is currently debated[28,29]). It will be necessary to plan strategies aimed not only at producing the best possible knowledge of recommended treatments for both healthcare professionals and patients, but, even more, at improving clinical implementation, possibly through better communication of healthcare protocols between hospitals and the community.
Figure 2. Secondary prevention strategies for patients with documented chronic coronary syndromes. Anti-inflammatory therapy will likely be included in future guidelines. ACE: Angiotensin converting enzyme; ARB: angiotensin II receptor blocker; ASA: aspirin; EF: ejection fraction; GLP1 RA: glucagon-like peptide-1 receptor agonist; Hb: hemoglobin; HFP: heart failure; i: inhibitor; LDL: low density lipoprotein; LVD: left ventricular dysfunction; PCSK9: proprotein convertase subtilisin/kexin type 9; SBP: systolic blood pressure; SGLT2: sodium-glucose cotransporter-2.
Research perspectives
Research on the role of inflammation and of anti-inflammatory strategies (i.e., drugs, dietary habits, exercise and lifestyle changes) in atherothrombotic diseases is continuing intensely with > 220 interventional studies reported on clinicaltrial.gov[30]. The favorable results of the colchicine coronary heart disease trials and the interest in a low-cost but highly effective anti-inflammatory treatment is stimulating research in other cardiovascular areas and beyond, with > 170 controlled colchicine studies registered on clinicaltrial.gov in diverse conditions, including prevention or delay of: (1) new cerebrovascular events in patients with a previous stroke or TIA (CONVINCE)[31]; (2) nephropathy progression in patients with diabetes mellitus and microalbuminuria[32]; (3) mortality; and (4) major respiratory complications in hospitalized patients (COLCOVID)[33] and outpatients (COLCORONA)[34] with Coronavirus Disease 2019 (COVID-19).
Conclusions
Recent large controlled trials have confirmed the role of inflammation in the pathogenesis of atherothrombotic disorders and expanded treatment options in patients with coronary heart disease. A relevant change in secondary prevention strategies is taking place with the inclusion of drugs targeted against inflammation. In this context, the revival of an old drug, colchicine, is likely to enrich our therapeutic toolbox, beyond the well-known clinical indications of gout and pericarditis[35], and with possible applications to different clinical areas in which inflammation may play a relevant role, including COVID-19, a condition in which reliable results from well-conducted studies demonstrating effective therapies are desperately needed.
Declarations
Authors' contributions
All authors contributed equally to the critical evaluation and whole content of the manuscript.
Conceptualized and prepared the original draft: Maggioni AP, Andreotti F
Drafted and revised figures: Maggioni AP, Iervolino A, Andreotti F
Reviewed and edited the manuscript: Maggioni AP, Iervolino A, Andreotti F
Availability of data and materials
Not applicable.
Financial support and sponsorship
None.
Conflict of interest
Maggioni AP received personal fees from Bayer, Fresenius, Novartis for the participation in study committees outside the present work. Iervolino A reports no conflicts of interest to disclose. Andreotti F reports receiving personal fees from Amgen, Bayer, BMS-Pfizer and Daiichi Sankyo outside the present work.
Ethical approval and consent to participate
Not applicable.
Consent for publication
Not applicable.
Copyright
© The Author(s) 2021.
Cite This Article
OAE Style
Maggioni AP, Iervolino A, Andreotti F. Is it time to introduce anti-inflammatory drugs into secondary cardiovascular prevention: evidence from clinical trials?. Vessel Plus 2021;5:14. http://dx.doi.org/10.20517/2574-1209.2021.05
AMA Style
Maggioni AP, Iervolino A, Andreotti F. Is it time to introduce anti-inflammatory drugs into secondary cardiovascular prevention: evidence from clinical trials?. Vessel Plus. 2021; 5:14. http://dx.doi.org/10.20517/2574-1209.2021.05
Chicago/Turabian Style
Maggioni, Aldo Pietro, Adelaide Iervolino, Felicita Andreotti. 2021. "Is it time to introduce anti-inflammatory drugs into secondary cardiovascular prevention: evidence from clinical trials?" Vessel Plus. 5: 14. http://dx.doi.org/10.20517/2574-1209.2021.05
ACS Style
Maggioni, AP.; Iervolino A.; Andreotti F. Is it time to introduce anti-inflammatory drugs into secondary cardiovascular prevention: evidence from clinical trials?. Vessel Plus. 2021, 5, 14. http://dx.doi.org/10.20517/2574-1209.2021.05