Mechanical behaviour
Stents, as medical devices used in human bodies, impose difficulties and challenges for experimental studies due to their tiny size and complex design. Despite the challenges, various methods have already been developed to investigate the behaviour of stents, including polymeric stents. Grabow et al.[11] studied the expansion behaviour of a biodegradable slotted tube stent, made of PLLA and poly-hydroxybutyric acid (PHB), by stent bench testing. As shown in Figure 1, the crimped stent was mounted on a balloon catheter, and then expanded by balloon inflation. All stents were expanded successfully without the occurrence of strut fracture, and Figure 2 shows the stent diameter change as a function of balloon pressure. The stent initially expanded rapidly at a balloon pressure of 1-2 bars and then achieved full expansion at a pressure of 6 bars. The measured recoil effect and collapse pressure were 4.2% and 1.1 bars, respectively. These results revealed that the PLLA/PHB slotted tube stent exhibited adequate mechanical properties during rapid expansion process. The same method was also used by Grabow et al.[12] to investigate the mechanical performance of two types of biodegradable balloon-expandable stents, made of PLLA and PLLA/PCL/TEC, respectively. Both types of stents were able to expand fully by balloon inflation under a pressure of 8 bars, but differences were observed for expansion process as shown in Figure 3. Specifically, the PLLA/polycaprolactone (PCL)/TEC stent expanded immediately with the balloon inflation while the pure PLLA stent started to expand at a balloon pressure of ~2 bars. As a result, the pure PLLA stent achieved a smaller diameter (6.0 mm) than that of PLLA/PCL/TEC stent (6.7 mm) at peak balloon pressure. Moreover, the pure PLLA stent exhibited smaller elastic recoil (2.4%) and larger shortening (3.4%) compared to PLLA/PCL/TEC stent (8.8% and 2.3%, respectively). These results suggested that material properties affected the mechanical behaviour of stents.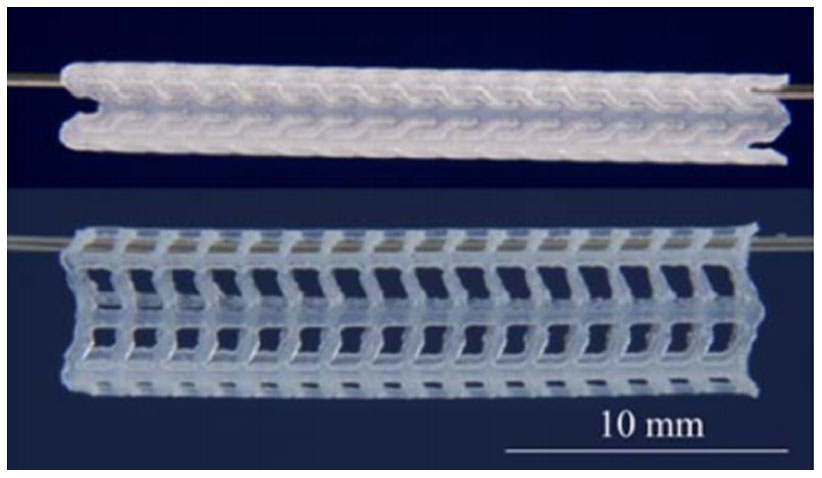 Figure 1. Stent in crimped and deployed configurations[11]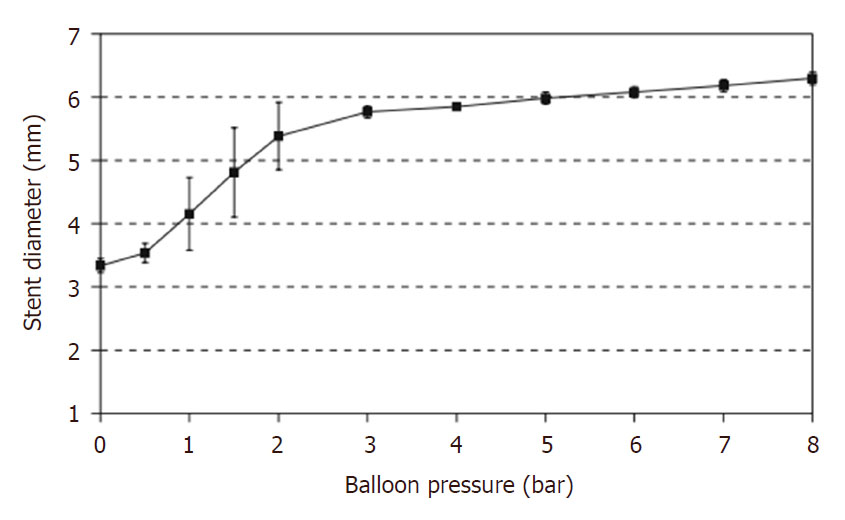 Figure 2. Stent diameter change against balloon pressure during expansion[11]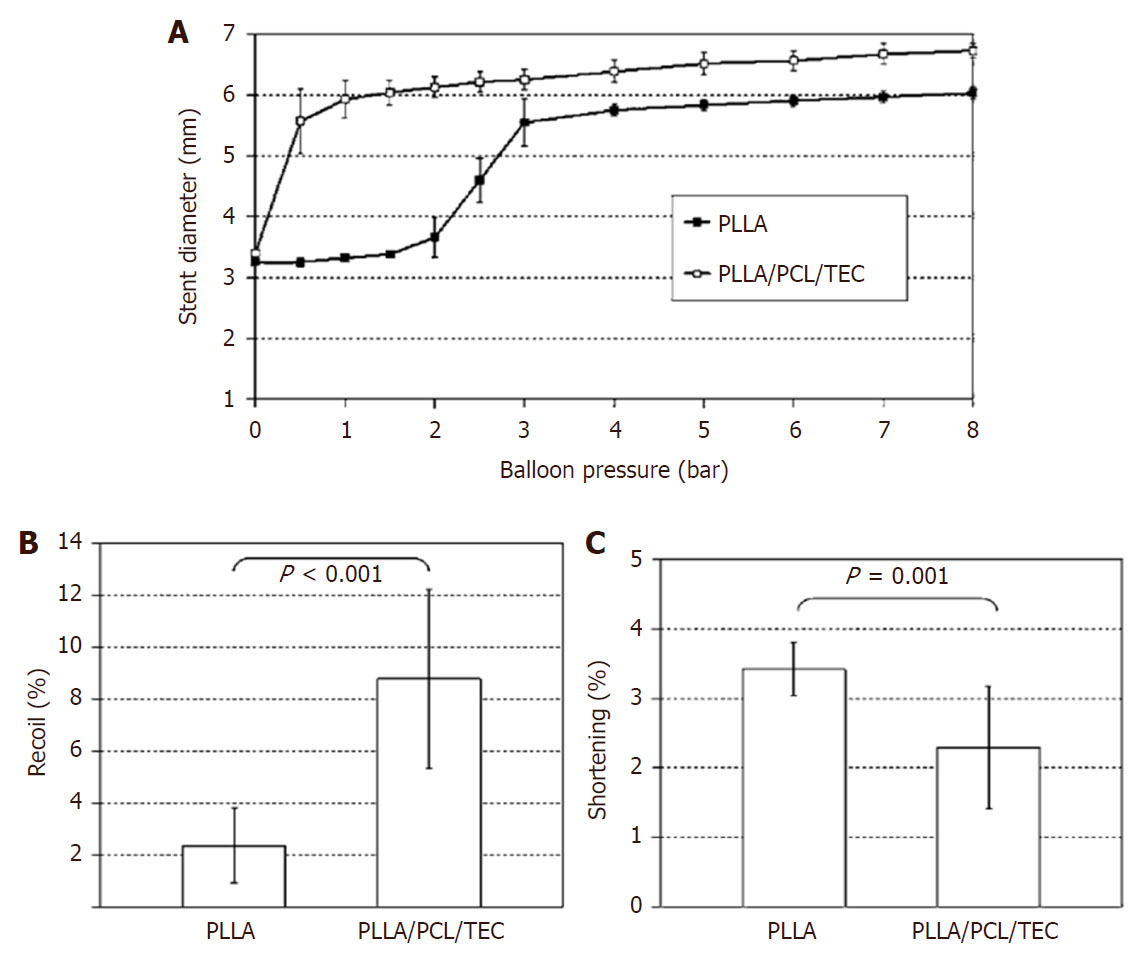 Figure 3. Stent diameter change against balloon pressure (A), elastic recoil (B) and stent shortening (C)[12]
Schmidt et al.[13] characterized the in vitro mechanical performance of bioresorbable scaffolds (i.e., Absorb GT1, Elixir DESlove and Biotronik Dreams 2G) using the same method as described above. The crimped stent had an outer diameter of 1.38 mm, 1.39 mm and 1.44 mm for Absorb GT1, Elixir DESlove and Dreams 2G, respectively. The Dreams 2G exhibited a pushability of 45.41% compared to 33.77% for Absorb GT1 and 36.27% for Elixir DESolve, but no significant difference was found for trackability of the three stents which were 0.68 N, 0.75 N and 0.64 N for Dreams 2G, Absorb GT1 and Elixir DESlove stents, respectively. Moreover, they examined and compared expansion behaviour of the three stents within a mock vessel and a rigid vessel model. The Dreams 2G showed smaller recoil (5.6% and 5.0%) in both two cases without change over time, while Absorb GT1 and Elixir DESolve stents showed time-dependent recoil. These results highlighted the differences between metallic and polymeric BRSs due to different material properties and designs. Ormiston et al.[14] performed expansion and post-dilatation experiments for two commercially available bioresorbable stents (Absorb and DESolve) and compared to typical metallic DES Xience Xpedition. They examined the mechanical characteristics, such as crossing profile, recoil and radial strength, by imaging and intravascular ultrasound techniques. The crossing profile had a diameter of 1.14 mm, 1.43 mm and 1.44 mm for Xpedition, Absorb and DESolve, respectively. The radial strength of stent, measured in terms of pressure required to reduce 25% of cross-sectional area, was found to be 1.6 atm for Xpedition, 1.4 atm for Absorb and 1.1 atm for DESolve. All three stents showed elastic recoil after expansion with a slight change over time. Initially, all three stents significantly recoiled by approximately 0.1 mm. Afterwards, Absorb and Xpedition continued slight recoiling whereas the diameter of DESolve showed an increase (self-correction). Their results revealed that the metallic stent had thinner strut with smaller profile but greater radial strength compared to polymeric stents. Welch et al.[15] studied the effect of thermal annealing on the mechanical behaviour of helical coiled PLLA stents. The stents were annealed at a temperature of 70 °C, 80 °C and 90 °C for 25 min after manufacturing, and then expanded by balloon catheter up to a pressure of 12 atm. Experimental results showed that the stent had higher stiffness and greater collapse resistance with the increase of annealing temperature, whereas the elastic recoil had a decrease. Probably, thermal annealing induced some changes in crystalline structure of PLLA, and thus affected the stress-strain behaviour and stent expansion behaviour.
The experimental work mainly studied the expansion behaviour of polymeric stents, such as stent diameter change against inflation pressure, recoil and shortening effect, which are greatly affected by stent materials and designs. Polymeric BRSs, as the latest generation of stent, are mostly made of biodegradable polymer PLLA. It is well known that PLLA has low mechanical strength and poor elongation compared to metal, which limits its application for stents. Consequently, studies have also been performed to investigate and improve the mechanical behaviour of poly-lactic acid (PLA), including blending PLA with ductile biodegradable polymers as discussed above. In order to further improve the performance of BRSs and compete with metallic stents, research into processing and characterisation of biodegradable polymers is particularly required.
Degradation behaviour
One of key features for polymeric stents is their degradation behaviour over time. There were some experimental studies available in terms of characterization of stent degradation in vitro and in vivo. Xu et al.[16] evaluated in vitro and in vivo degradation behaviour of biodegradable tubular stents, made of poly-lactic-co-glycolic acid (PLGA) with five different molar weight ratios of LA/GA (50/50, 60/40, 71/29, 80/20 and 88/12), for application in common bile duct (CBD) repair and reconstruction. For in vitro test, stents were placed in bile degradation medium (pH = 7.2-7.6). Morphological results showed that the stents slightly expanded, deformed and then cracked meanwhile their colour changed from initially transparent to yellow and opaque due to the bile and water absorption. Weight loss, molecular weight change and water uptake were also observed, indicating the PLGA stents exhibited different degradation rates due to different composition ratios. For in vivo test, PLGA (71/29) stents were implanted in the rat CBDs. Results showed that the polymeric stents can provide the same biomedical functions as typical T tubes and completely disappeared after 5 weeks.
Hadaschik et al.[17] investigated the degradation behaviour of a new biodegradable ureteral stent (Uriprene) made of copolymer PLGA (LA/GA = 80/20) using porcine models. Uriprene stents were implanted in 20 pigs while standard biostable stents were implanted in 16 pigs as a control. Compared to control stents, Uriprene stents caused significantly less ureteral dilatation and urinary tract infections. Their results also showed that the Uriprene stents began degradation at week 3, and completely degraded at week 10. The novel stent was proved to be biocompatible in vivo. Yang et al.[18] carried out degradation experiments on a novel biodegradable PGLA ureteral stent, with multilayer design immersed by microsphere zein and BaSO4, in human urine in vitro. The scanning electron microscope (SEM) results showed that the novel stent started degradation at week 2 and fully degraded after 4 weeks, and the degradation happened layer by layer from outer to inner surface. The stent weight and mechanical strength (i.e., tensile strength, elastic recovery and radial compression load) showed a decrease over the degradation time.
Currently, commercial degradable polymeric stents are made of PLLA, which breaks down to natural by-products, i.e., water, gases (CO2 and N2), biomass and inorganic salts. These natural by-products are non-toxic, so there are no negative effects on the blood or vessel wall. Degradation behaviour of polymeric stents was mainly characterized by in vitro and in vivo methods, focusing on variation of physical (e.g., mass weight and molecular weight) and mechanical properties (e.g., tensile strength and elastic modulus) over degradation times. Key parameters used to assess degradation behaviour of biodegradable polymers include mass loss, molecular weight change, water uptake and morphology change. Gong et al.[19] carried out in vitro degradation study of porous PLLA scaffolds over 39 weeks, and the scaffolds degraded at a slow rate due to its highly porous structure in terms of weight water uptake and structure change. As reported by Liu et al.[20], PLLA porous scaffolds exhibited a reduction in mass and molecular weight during an in vitro degradation time of 200 days. Rodrigues et al.[21] studied degradation process of porous PLA scaffold immersed in phosphate-buffered-saline solution, and revealed that there was no significant change in molecular weight over 8 weeks. Zamiri et al.[22] compared the in vitro degradation behaviour of PLLA and PLLA/PLGA braided scaffolds over 25 weeks, and the mass loss was found very limited for PLLA braided scaffolds whereas PLLA/PLGA braided scaffolds experienced a mass loss of 64%. Grabow et al.[12] reported a gradual and steady reduction in molecular weight for a PLLA scaffold prototype during 24 weeks of in vitro degradation. Table 1 gives a summary of these key parameters used in assessing degradation behaviour of polymer scaffolds.
Table 1
Key parameters used in assessing degradation behaviour of polymer scaffolds
| References | Gong et al.[19] (2007) | Liu et al.[20] (2014) | Rodrigues et al.[21] (2016) | Zamiri et al.[22] (2010) | Grabow et al.[12] (2007) |
| --- | --- | --- | --- | --- | --- |
| Materials | PLLA scaffold | PLLA scaffold | Porous PLA scaffold | PLLA scaffold/PLGA scaffold | PLLA scaffold |
| Media | PBS | PBS | PBS | PBS | PBS |
| Degradation times | 39 weeks | 200 days | 8 weeks | 25 weeks | 24 weeks |
| Mass loss | 30% | 8% | Remain relatively constant | 5%/64% | - |
| Molecular weight loss | From 177,000 to 80,000 | From 179,000 to 146,000 | No significant change (120,000~150,000) | - | 28% |
| Water uptake | Decreased dramatically with degradation time, and lowest value appeared between week 9 and 12 | 900% | - | - | - |
| Morphology change | Microcracks at week 9; more cracks and big holes after week 23 | Some little holes on the surface of the porous walls | - | - | - |
Mechanical properties (i.e., ductility, toughness and strength) of biodegradable polymers change significantly during degradation due to hydrolytic chain scission at molecule level. It is of importance to understand the mechanical behaviour of bioresorbable polymeric scaffolds during degradation period. The earliest assessment of the mechanical performance of biodegradable stents was conducted by Agrawal et al.[23], who tested in vitro the pressure-diameter behaviour of the Duke biodegradable stents made of PLLA fibres. They reported that with a careful balance between fibre mechanical properties (varied with draw ratio and thermal treatments) and stent designs, it was possible to achieve a successful biodegradable stent. Zilberman et al.[24] reported a loss in radial compression strength for their PLLA stent designs with degradation time, which is also associated with reductions in elastic modulus and yield strain of the PLLA fibres. Nuutinen et al.[25] carried out in vitro tests of a woven fibre polymeric braided stent subjected to radial compression in a pressurized chamber. The stent design did not perform well enough when made of biodegradable polymer, and the collapse pressure was still lower than its metal counterpart even with thicker fibres. Specifically, the stent lost structural integrity after 36 weeks of degradation (immersed in saline at 37 °C) and the collapse pressure decreased by half at 30 weeks. The in vitro degradation study by Liu et al.[26] showed that PLLA porous scaffolds exhibited a reduction in compressive modulus and strength during a degradation time of 200 days. Recently, Rodrigues et al.[21] carried out an in vitro degradation study of porous PLA scaffold immersed in phosphate-buffered-saline solution for 8 weeks. The study revealed that compressive properties (i.e., compressive modulus and stress at yield) of the scaffolds maintained constant during the initial 6 weeks and increased significantly at week 8. Similarly, Grabow et al.[12] conducted in vitro degradation study for a PLLA scaffold prototype in a deployed shape, and they found that collapse pressure increased firstly within 12 weeks and then deceased. From the material point of view, the initial increase of compressive properties might be caused by the recrystallization of biodegradable polymer PLA/PLLA due to the water absorption and temperature increase (from room temperature 20 °C to human body temperature 37 °C). It was reported that crystallization can significantly improve the mechanical strength and stiffness of PLLA. It should be pointed out that there is a lack of efforts in assessing the discontinuity of the scaffold during the late stage of degradation, due to the difficulties in imaging the scaffold. However, such studies can be accomplished by using the micro computed tomography (CT) technology to investigate the internal damage associated with both biodegradation and mechanical deformation wherever feasible. Also the microstructures of all specimens can also be investigated using SEM both before and after the tests, by fracturing the specimens (e.g., in liquid nitrogen) and coating the fracture surfaces with a thin layer of gold.
In addition, clinical trials have also been carried out extensively and long-term follow up indicated the safety and efficacy of polymeric stents in treatment of coronary artery disease. Follow-up studies, based on invasive imaging methods such as CT, angiography and intravascular ultrasound (IVUS), were normally carried out to assess the stented vessel after the implantation of bioresorbable scaffolds. As reported in Ormiston et al.[27], the bioresorbable vascular scaffold (BVS) absorb showed an overall 16.8% reduction of lumen area at 6-month follow-up of 30 patients implanted with the scaffolds. Serruys et al.[28] evaluated the outcomes of Absorb for treating coronary artery stenosis in 45 patients. The mean lumen area was found to decrease by 3.1% (6.60 to 6.37 mm2) according to IVUS analysis at 6-month follow up whereas it increased to 6.85 mm2 at 2-year follow up. Recent 5-year follow-up results after Absorb implantation concluded that the mean lumen area tended to increase from 6 months to 1 year and 5 years[29]. Progressive lumen gain was also observed after Absorb implantation in porcine coronary arteries[30], for which the lumen area kept stable up to 6 months and then showed a progressive increase from one to 3.5 years. These studies confirmed the lumen gain after scaffold implantation over the degradation times, especially from 6 months onwards.
However, studies are still limited and challenging due to the microscale geometry of stent and complex environment of human artery. To complement experimental work, finite element simulations were consequently used to study the stent performance during deployment, which is reviewed in the next section.